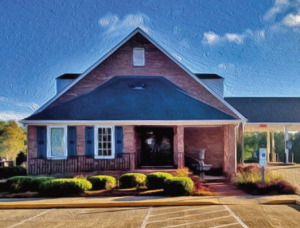 During its Annual Meeting today Outer Banks Community Foundation (OBCF) announced the establishment of the Outer Banks Center for Nonprofits, a new collaborative space that will provide flexible office space and services for nonprofits on the Outer Banks. The Community Foundation has outgrown its current location and its new facility will also benefit other local nonprofits facing challenges securing appropriate space for their operations. The establishment of the new center comes at an important moment in OBCF's evolution. The Community Foundation is celebrating its 40th Anniversary and is preparing to move forward in meeting the ever-expanding range of challenges within the Outer Banks community.
The new center is being made possible by the generosity of Southern Bank, which offered to sell its branch office on Roanoke Island to OBCF at below-market value. In July 2022, OBCF's Board of Directors voted unanimously to explore and support the offer made by Southern Bank. To support this effort, OBCF embarked on a capital campaign to raise funding for this important project, inviting donors and grantmaking organizations to contribute to establishing the Outer Banks Center for Nonprofits.
In addition to Southern Bank's gracious generosity, numerous donors from the Outer Banks and across eastern North Carolina, some of whom have heretofore not been involved in the Outer Banks or with the Community Foundation, have made significant contributions to the establishment of the Outer Banks Center for Nonprofits. They include: Percy W. & Elizabeth G. Meekins Charitable Trust; Jane Webster Charitable Fund; Burwell A. Evans Charitable Fund; and several anonymous donors. The Community Foundation gratefully extends its thanks to Southern Bank and the donors listed above for their support and commitment to the nonprofit community on the Outer Banks. Community Foundation President and CEO, Chris Sawin, commented on today's announcement, "After forty years of serving the Outer Banks community, the Outer Banks Center for Nonprofits, along with our new office space, represents an innovative move toward the future. We are committed to enhancing the quality of life on the Outer Banks and positively impacting Outer Banks organizations and residents. In our new home, we will continue our work with donors and partners as we further OBCF's mission and support the broader nonprofit community on the Outer Banks."
Southern Bank Chairman & CEO Drew Covert, who also serves as Chairman of the Southern Bank Foundation, said supporting the Community Foundation in this manner would allow the Bank to also support many other non-profits in the Outer Banks Community. "This facility served our customers and employees well for many years. To be able to have it repurposed in a way that will lift up many non-profits and the people that they support, it aligns perfectly with our company's values and our commitment to investing in the betterment of our communities."
Southern Bank Executive Vice President and Coastal Region Supervisor Jason Waughtel, commented on the bank's important role in this effort, "The dynamic new center being established in our former branch will provide a home for the Community Foundation as well as benefit the entire nonprofit community on the Outer Banks. The establishment of the center will help address the challenges of securing appropriate office space for nonprofit business operations on the Outer Banks and foster collaboration and networking opportunities. That's a huge win-win for all involved and we at Southern Bank are extremely proud to have played a role in this important effort."
The Outer Banks Center for Nonprofits and the new home of the Outer Banks Community Foundation will be located on Roanoke Island at 704 Highway 64/264 in Manteo, NC.
The Outer Banks Community Foundation is a 501(c)3 nonprofit charitable organization that inspires philanthropy and connects people who care with causes that matter. The Community Foundation manages more than 200 charitable funds for individuals and agencies, awards grants to nonprofits, administers more than 60 scholarship programs, and provides tailored services to help donors pursue their charitable interests. Since its inception in 1982, the Community Foundation has awarded more than $13 million in grants and scholarships to local nonprofits and students.