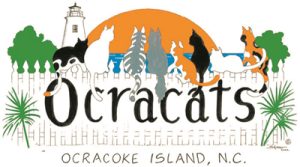 Thanks to our amazing community of supporters, the Island Free Press (IFP) was able to make donations to two non-profit organizations on Hatteras and Ocracoke Islands, just in time for the holiday season: the Hatteras Island Cancer Foundation and Ocracats.
The donations represent proceeds from the sale of the first-ever 2024 IFP calendars and were nominated and voted for by our best resource – our community of readers.
10% of all proceeds from all calendar sales will be divided between the two organizations, and the IFP thanks everyone who purchased a calendar, as well as the nearly 400 readers who voted for their favorite community charity. Our brand-new IFP hats are also available for pre-ordering, and the IFP will once again be donating proceeds from the hat sales to two local organizations nominated by our readers and supporters.
Thank you from all of us at the IFP for your continued support and your dedication to our island communities! Your generosity is our constant inspiration to continue a tradition of giving back to the communities we are proud to serve.