Blackbeard's Pirate Jamboree is invading Ocracoke Island on Oct. 27-28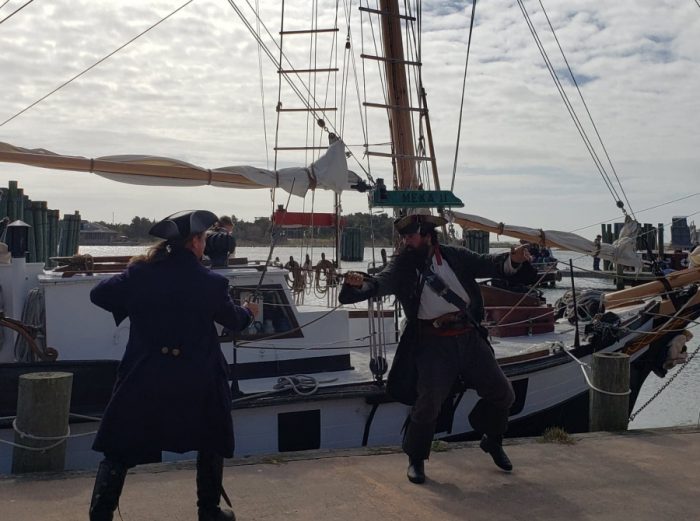 One of the Outer Banks' most beloved annual traditions – the Blackbeard's Pirate Jamboree – will once again be invading Ocracoke Island on October 27 and 28,  with reenactments, a costume contest, a colonial encampment, and many more enticements for newly-recruited pirates of all ages.
Blackbeard's Pirate Jamboree will officially kick off on the Berkley Manor grounds on Friday afternoon Oct. 27, (2-5 p.m.), with an artisan vendor fair. A costume contest for kids and adults begins at 6 p.m. on Friday in the Berkley Barn, featuring Kevin Duffus and Steve Whetzel as MCs.
On Saturday, from 9 a.m. to 5 p.m., Ocracoke visitors can explore a colonial encampment on the grounds of the Berkley Manor, highlighting daily life, navigation, cooking and medicine, games for kids, and dozens of artisan vendors in Brigands Bazaar.
Among the living history re-enactors are The Cannon Crew out of Beaufort, (led by Capt. Carl Cannon), which will demonstrate historic navigation, weaving, and cooking. Meanwhile, Cannon's period sloop, "The Adventure," and Horatio Sinbad's brigantine, "Meka II," will circle the Silver Lake Harbor with cannons ablaze.
Also pitching their camps will be members of Leviathan Nautical Living History, who will demonstrate Colonial-era firearms.
The Sword Circle's booth will have interactive candle making, axe throwing, and an area for kids to learn sword fighting, and The Shadow Players, featuring Steve Whetzel, will return this year to perform their Pirate Comedy Sword Fight, while roving minstrels will sing sea chanteys and tavern songs throughout the day.
Kevin Duffus will give a talk on "Where is Blackbeard's Treasure," and the crews will also reenact the sword fight in which Blackbeard met his demise at the hands of Royal Navy Lt. Robert Maynard.
The two-day event will conclude at 4 p.m. on Saturday with a memorial service honoring the fallen sailors of both Blackbeard and Lt. Robert Maynard.
Swashbucklers can stay tuned on Blackbeard's Pirate Jamboree Facebook Page for updates, and a complete schedule of events is listed below.