After a four-year hiatus, Day at the Docks makes a triumphant return to Hatteras village… WITH SLIDESHOW
Slideshow Photos by Don Bowers
After a four-year hiatus, the annual Day at the Docks festival made a triumphant return to Hatteras village, attracting a big crowd that was lured in by the event's many activities, programs, and competitions that were stationed along the waterfront.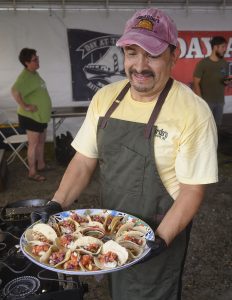 Initially launched as a one-day event in 2004, Day at the Docks (DATD) was created as a community-wide effort to recover after 2003's devastating Hurricane Isabel, which cut a new inlet north of the village, separating Hatteras from the rest of the world for weeks.
The event grew over the years, but was unexpectedly canceled in 2018 and 2019 due to hurricanes, (Florence and Dorian), and was canceled again in 2020 and 2021 due to the Coronavirus pandemic.
But the long gap didn't diminish the spirit of the 2022 event, and many longtime activities that have been highlights of previous DATDs returned to much acclaim.
The Hatteras Island Cancer Foundation's Chowder Cook-off, (which was held at the Hatteras Civic Center), attracted plenty of hungry fans, who voted for their favorite chowders that were provided by local restaurants. Café Pamlico at the Inn on Pamlico Sound took third place with a monkfish and clam chowder, the Breakwater Restaurant scored second place with a shrimp and corn chowder, and The Wreck Tiki Bar took home the first place honor with their smoked Mahi chowder with andouille sausage, redskin potatoes, and bacon.
Fresh seafood was prevalent throughout the festival, and was the star at the annual Seafood Throwdown on the main stage on Saturday afternoon. 2022's event had a twist, with two local restauranters – Chef Eduardo Chavez and Chef Lalo Rebollo – competing for the best fish taco, using a main ingredient of fresh sheepshead. Though the competition was razor-thin close, judges John Griffin, John Adylett, and Amy Gaw eventually declared Chef Lalo the winner.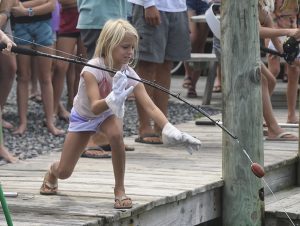 The concrete marlin competition and youth fishing tournament both returned for 2022 as well, with plenty of participants drawing a large crowd along the docks. In fact, the annual youth fishing tournament was the biggest in DATD history, with 131 young anglers participating in this year's event.
Throughout the day, there were also seafood-themed programs to entertain and educate festival-goers, including storytelling by Keeper James Charlet and a Farming Oysters discussion on the main stage, (in addition to a number of other demonstrations and live music.)
There were also ample opportunities for attendees to shop, dine, and watch demonstrations on the waterfront grounds, and a number of local and national organizations set up stations to provide information, activities, and plenty of food. The Fish Print T-Shirt station was especially popular with young visitors, and the U.S. Coast Guard also drew a crowd with walk-on tours of one of their 47' foot-long rescue vessels.
After an awards ceremony where fishing tournament winners received an array of trophies and prizes, the crowd drifted to the waterfront for the signature event of the festival, the Blessing of the Fleet.
While previous DATD events were canceled from 2018-2021, the Blessing of the Fleet remained an annual tradition, as it has been an integral part of Day at the Docks since the festival began in 2004.
Pastor Toni Wood of the United Methodist churches in Buxton, Frisco, and Hatteras led the blessing for the seventh year in a row, noting that her first year on the island – which coincided with 2016's Hurricane Matthew and Tropical Storm Hermine – showed her how strong her new community could be.
"I got to know the people of this island, and I got to see how they reached out to neighbors, strangers and anybody else to help anyone who was in need," said Pastor Wood. "I had no idea – and nobody could have ever told me – how beautiful the people of Hatteras Island were. I walked through that tragedy with them, and we are still very, very blessed."
After the blessing, roughly 26 boats took part in the procession into the open water, led by Ernie Foster of the Albatross Fleet, to lay a wreath in memory of the watermen who had passed away in the past year. The boat parade included local charter and commercial vessels, as well as the U.S. Coast Guard, and a surprise participant for 2022 – the new Ocracoke Express passenger ferry.
With sunny weather and smooth sailing throughout the day, and hundreds of attendees that meandered along the docks from one eye-catching attraction to the next, organizers and festival-goers agreed that even though DATD had dropped off the radar for several years, the annual event was clearly back with a bang.
2022 Concrete Marlin Competition Winners:
Adults:
1st Place: Ryan Oden and Tim Hagerich
2nd Place: Johnny Fairbanks and John Cannon
Under 14:
1st Place: Jesus Garcia and Anthony Gavetti
2nd Place: Stella Powell and Audrey Meekins
2022 Youth Fishing Tournament Winners:  
5 & Under – Heaviest Pinfish
Place
Name
Age
City
Weight
3rd
River Hagerich
4
Hatteras
.18 oz
2nd
Bodie Lloyd
5
Frisco
.36 oz
1st
Kasen Ballance
4
Hatteras
.4 oz
5 & Under – Longest Fish
Place
Name
Age
City
Length
3rd
Michael Hooper
5
Avon
8 3/4" Spot
2nd
Zachery McMillan
5
Buxton
10 3/4" Croaker
1st
Josiah Waterfield
5
Frisco
12" Puppy Drum
6 – 8 – Heaviest Pinfish
Place
Name
Age
City
Weight
3rd
Jackson Collier
8
Frisco
.36 oz
2nd
David Ertle
6
Frisco
.38 oz
1st
Isla Hagerich
6
Hatteras
.44 oz
6 – 8 – Longest Fish
Place
Name
Age
City
Length
3rd
Amos Fulcher
7
Buxton
7" Hogfish
2nd
Victoria Perez
8
Hatteras
7 1/4" Sea Robin
1st
Thomas Kavanagh
8
Frisco
9 1/4" Puppy Drum
9 & Over – Heaviest Pinfish
Place
Name
Age
City
Weight
3rd
Audrey Jennette
10
Buxton
.38 oz
2nd
Addison Johnson
13
Frisco
.44 oz
1st
Gunner Johnson
11
Frisco
.46 oz
9 & Over – Longest Fish
Place
Name
Age
City
Length
3rd
Fisher Koci
9
Hatteras
13" Puppy Drum
2nd
Harper Jennette
9
Buxton
14 1/2" Puppy Drum
1st
Hunter Cannon
9
Hatteras
18 1/2" Flounder
Overall/Grand Prize Winner – Heaviest Pinfish
Place
Name
Age
City
1st
Avery Wompierski
6
Avon
.5 oz
Overall/Grand Prize Winner – Longest Fish
1st
Kennedy Jacobs
6
Buxton
28" Stingray
For more information on Day at the Docks, including a list of this year's sponsors, visit the festival website at http://hatterasonmymind.com/HVCA/DayAtTheDocks/ or the event's Facebook page at https://www.facebook.com/hatterasdayatthedocks.