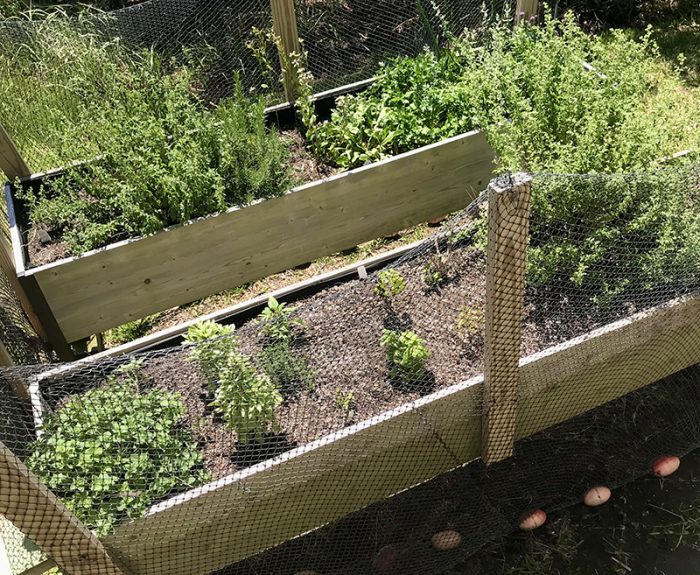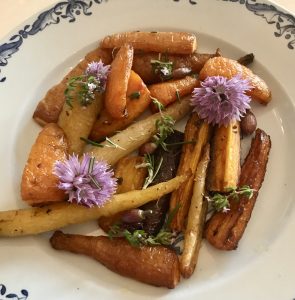 We did have a few pretty days recently, but not many. They were enough for me to get some gardening underway, but I had to bring some new plants into the house to protect them from the incessant wind.
Most survived and are now securely potted, so I can look forward to some fresh herbs and veggies. I say that with crossed fingers!
The raised beds have proven their worth, and the herbs made it through a rough winter. Even the hot-climate varieties, like sweet marjoram, zaatar, and oregano, survived and are growing like, well, the weeds they are.
Despite a few setbacks, I finally have a greenhouse, so things should be easier next year. (Note I say should, not will!)
Risky Business Seafood over at Oden's Dock is open for the season and Parc provides perfectly-steamed shrimp, so I picked some up on my afternoon walk. It made an easy supper one step easier.
I already had mango/cantaloupe salsa ready. All I had to do was slice an avocado, fry a few small soft tortillas, assemble, and top with fresh, young cilantro. Shrimp Tostados, anyone?
The salsa is based on whatever you have. In addition to the fruit, I diced red onion, a combo of yellow and red bell peppers, jalapeno, a dash of cumin, and a very small pinch of sea salt. Delicioso!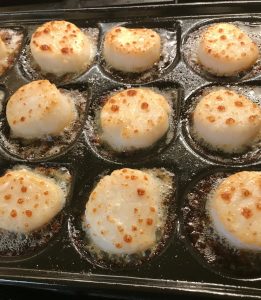 On another walk to Oden's Dock, I stopped in to splurge on some quality dry sea scallops, and it was truly a splurge. I won't be doing that often, but they were well worth the extravagance.
Our grill has been shedding its parts – it is now rusting away at the Buxton Transfer Station – so I decided to broil the scallops and serve them with multi-colored baby carrots from a friend's garden in Buxton.
Using a special ceramic shrimp and scallop pan from surlatable.com that is also perfect for oysters, I placed a single scallop on a dab of butter and a small stem of lemon thyme, and placed them under the broiler for only about two minutes.
The carrots were left whole and rolled in lemon-scented extra virgin olive oil, then sauteed until just soft enough for the tip of a paring knife to easily pierce them, around five minutes for these new carrots. A good sprinkling of fresh French thyme, chives, and their blossoms made for a festive and very colorful Spring dish.
The next evening, we finished the already-cooked scallops by serving them on a bed of couscous that had been cooked in chicken broth and topped with Rao's jarred marinara and a generous amount of fresh rosemary.
Here's to more ridiculously easy dinners all summer on the deck, with a variety of fresh herbs and veggies, and here's to a new grill!