Hatteras Island loses its last resident Banker Pony, HoneyB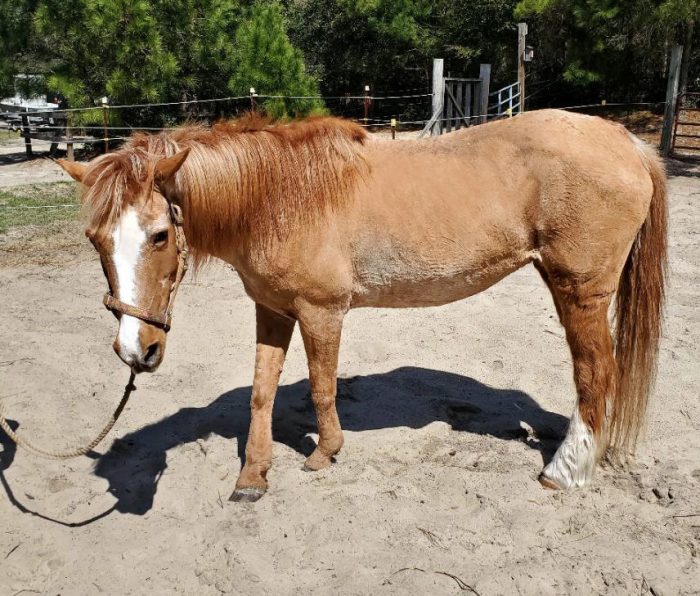 The native wild horses or "Banker Ponies" of Corolla, Ocracoke Island, and the Shackleford Banks are world famous, but few Outer Banks horse lovers know that Hatteras Island once had a wild horse population all its own, with roots that were tied to the same descendants of Spanish shipwrecks from hundreds of years ago.
In mid-October, the last local descendant of these original Hatteras Island horses – a well-known mare named HoneyB – passed away at 32 years old, quietly marking the end of an era.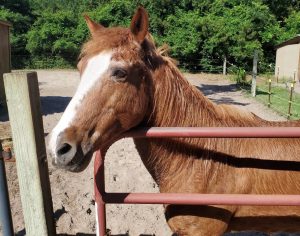 HoneyB's passing was, and remains, a heartbreaking loss for Susan Koehler Garrett, who was HoneyB's caretaker since the day she was born in 1991.
"I had been around that horse all of her life and for half of mine," said Garrett. "She was the last resident descendent of the Hatteras Island wild horses, so it's a huge loss for many reasons."
For generations, Hatteras Island's landscape was dotted with free-roaming farm animals, including both domesticated and feral horses that shared the unpopulated terrain.
Reports of horses on Hatteras Island can be traced back to the original English explorations of the late 1500s, and with these feral residents existing on neighboring islands including Ocracoke Island and the Currituck Banks, it makes sense that central Hatteras Island would have its own herd of wild Banker Ponies as well.
Banker Ponies have their own distinctive set of genetic characteristics that set them apart, and which hint at their historic origins. Smaller than domesticated horses, this unique and stocky species has one less vertebra than most other horse breeds, and their DNA is closer to Spanish Mustangs than the more common American and European horses.
This provides the link to the Spanish explorers of the 1500s, as the Outer Banks horses likely washed ashore during shipwrecks or were left behind during expeditions, and remained on the barrier islands in the centuries that followed. According to the Spanish Mustang Registry – which keeps track of these rare horses – there are fewer than 3,000 of these Spanish Mustang descendants remaining today.
While the history of the Ocracoke and Corolla wild horses is fairly well-known, the history of the original Hatteras Island Banker Ponies is a little more muddled. The majority of these horses ran free on the Outer Banks until 1930 when the General Assembly abolished free-range animals north of Hatteras Inlet. According to Garrett, in the 1960s and 1970s, this effort to contain the wild horses was intensified, as development and tourism on Hatteras Island began to take root.
By the time Garrett landed on Hatteras Island in the late 1970s, there were still wild horses throughout the island, but they had been corralled by different residents for protection and/or breeding purposes. As an avid horse lover, it did not take Garrett long to discover these clusters of resident horses, and she soon made a connection with Bill Burrus, who had roughly two dozen horses on a 20-30 acre site in Hatteras village.
"Bill Burrus had rounded these horses up at some point, and I got to know Nancy Austin, who was taking care of the herd," said Garrett. "Anyone who is horse crazy will find someone who will let you ride a horse or be with horses in exchange for shoveling poop… and those small horses could produce a lot of poop."
It didn't take long for Garrett to become a regular contributor to the low-budget operation, stopping by the site twice a day when she had breaks from her job at the nearby Hatteras-Ocracoke ferry docks to feed and tend to the animals.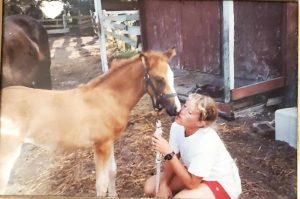 The Hatteras site where the horses were kept, located up the road from the Red & White grocery store, looked a lot different in the late 1970s and 1980s than it does today. There was a big barn, four stalls, pens, and lots of fencing which was pieced together with whatever wood was available. According to Garrett, on slow days, she would walk the beach and pick up long pieces of driftwood that were then collected in a pile near the stables. When there was a break in the fence, she would root through the pile to find a piece of driftwood that could double as makeshift fencing.
Bill and his son Dale's Hatteras horses were a mixture of feral and domesticated animals. Some of the horse residents steered clear of their human caretakers, but others got used to island life a little too easily. One horse in particular – a stallion named Corolla – was relocated to Hatteras Island from the Corolla herd, as he would wander off and wind up on the decks of local beach homes, peeking through sliding doors and asking human neighbors for food.
In the years that followed, Garrett became close with many of the horses, and routinely got to know their different habits and personalities. The Burrus family would breed and farm out the horses, sending them to live in more open areas, and by the time HoneyB arrived, there were only a couple of horses left at the once-busy Hatteras stables.
HoneyB was sired by two Banker ponies – Corolla, who came from the Currituck Banks, and Virginia Dare, who was a mare descendent of Ocracoke Island's wild horses. "Virginia Dare was the first local pony who was not born in the wild, hence her name, Virginia Dare, after the first English child born in America," said Garrett.
"So, her dam [mother] was out of Ocracoke, and her sire was from Corolla, which made her the last Banker Pony born on Hatteras Island."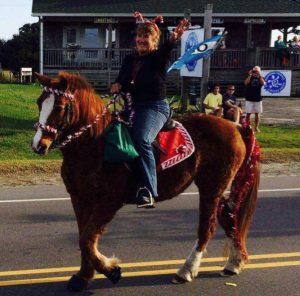 HoneyB was born in the summer of 1991, and Garrett was there an hour later to meet the new arrival.
Six months later, HoneyB made her public debut at the first-ever Hatteras Village Christmas Parade, where Garrett, Virginia Dare, and HoneyB wowed the crowd. "I was on Virginia Dare, and we led HoneyB, and she seemed to like the attention," said Garrett.
By the time HoneyB was born, the Burrus family's horse operation had more or less dissipated, with the remaining horses being sent to farms or stables around the country.
The records of where these horses were sent and to who adopted them are mostly lost – likely due to 1993's Hurricane Emily, (which flooded Hatteras village and destroyed 25% of the homes on Hatteras Island), or just through decades of misplacement.
But while most of the original horses had moved, Garrett stepped in to take HoneyB, and for the decades that followed, HoneyB remained a Hatteras Island resident.
In fact, islanders have likely encountered HoneyB before whether they realize it or not, as she was a regular presence at the annual Christmas Parade every year, including 2022's event. Horse lovers on the island knew HoneyB and her roots well, and she was a local icon of sorts, as a reflection of the island's own ties to the world-famous wild horses of the Outer Banks.
HoneyB passed away on October 19, 2023, and because of her notoriety, news of her loss hit the local horse community hard.
But despite the indication of the end of an era, there's comfort in the fact that HoneyB led a long and happy life, and remains a symbol of Hatteras Island's ties to centuries of history.
"There are no more Banker Ponies on Hatteras Island, but their descendants went to people who are trying to help the breed, and they are all out there, and all over the country – even as far away as Wyoming," said Garrett.
"Losing HoneyB has left a hole. But I'm grateful for the time I had with her, and I am grateful she got to stay at [her Hatteras Island] home."