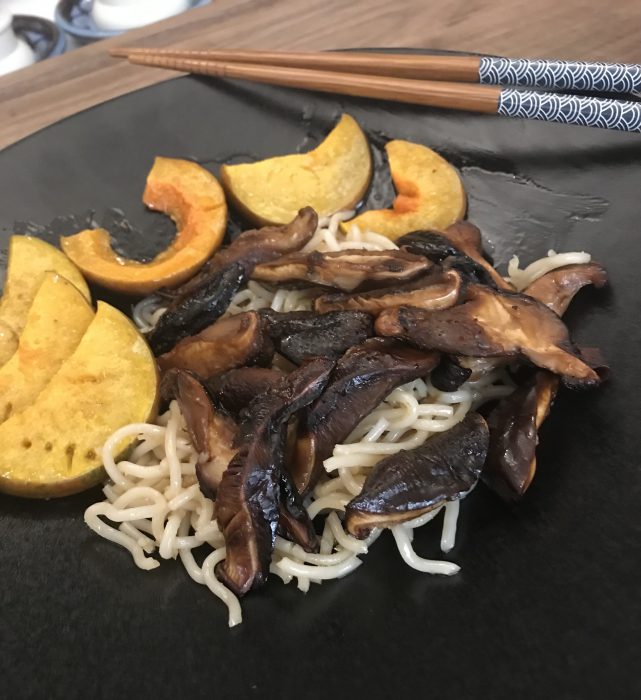 I imagine most people have their family traditions for holiday meals, especially Thanksgiving, so I am not writing about that special dinner. Instead, I am highlighting the warm and earthy flavors of the harvest season, fresh from the farm, via friends and farmers' markets.
When a friend appeared on the porch with just-picked shitake mushrooms she grows in Frisco, I was thrilled and my mind immediately went to a Japanese supper. I have a well-stocked pantry, so I had everything I needed to create a luscious shitake and noodle stir fry.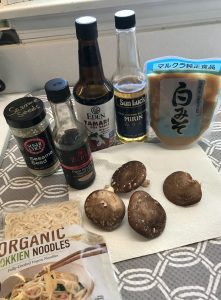 SAUCY MISO MUSHROOMS WITH NOODLES
3 tablespoons white miso paste
3 tablespoons mirin
3 tablespoons soy sauce
2 garlic cloves, crushed
1tablespoon sesame oil
6 large shitake mushrooms, thickly sliced lengthwise
1 package Hokkein stir-fry noodles, pre-cooked and wok-ready.
1 tablespoon sesame seeds, toasted
4 spring onions, finely sliced at an angle
Pre-heat oven to 400F.
In a bowl, whisk the miso, mirin, soy, garlic, and half the sesame oil until smooth and combined.
Line a half-sheep pan with a large sheet of aluminum foil, place the mushrooms in the middle and and scrunch up the sides to almost encase the mushrooms.
Pour the miso mix over the mushrooms, turning them to ensure they are well coated.
Scrunch the foil packet closed and bake for 30 minutes.
About 5 minutes before the mushrooms are ready, heat the remaining sesame oil in a wok.
Stir-fry the noodles until hot through and divide among 4 bowls.
Top each bowl with mushrooms and the sauce from the foil.
Scatter with sesame seeds and spring onions.
Ooops … I forgot to garnish, as you can see in the photo. But it does add to the pleasure of the dish and delivers some much -needed color.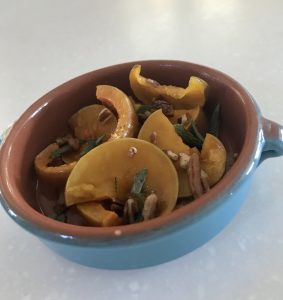 Other friends who have been out in the western part of the state always stop at farmers markets and bring me some goodies, including pumpernickel bread, apples, various squashes, cheese, honey, and jam. I am very fortunate!
Added to the bounty from my recent trip to the farms and orchards in Pennsylvania means that we have been eating really well.
Golden beets are slightly sweeter and milder than red beets, and I prefer them, so I was pleased to see them at a farmers market. I prepared them very simply. I coated them (unpeeled) with olive oil, and salt and peppered them, and wrapped them together in a piece of foil, roasting them at 400F until easily pierced. The beets I had were small and it took about 45 minutes.
When cool, simply rub the skin off the beets and cut into bite-sized pieces. Serve with dollops of prepared horseradish and a sprinkling of pepitas.
There has been a lot of roasting taking place in my kitchen! Most of these foods take very well to a hot oven. That includes squash.
Two of my favorites, delicata and honey nut, went into the same pan, along with a beautiful carnivale. They need to be well cleaned, since the entire squash will be eaten.
Cut the squashes in half from pole to pole. Scoop out the seeds and extra fiber. Turn upside down, and slice into half-moon shapes.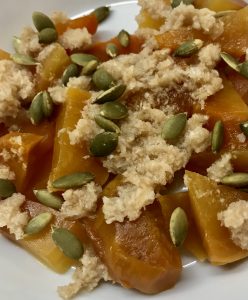 Combine good honey with butter and brush the mixture on the slices. Add salt and pepper, a dash of sweet smoked paprika, and sliced sage leaves.
Line your baking sheet with parchment paper. Place the squash slices in a single layer and roast at 400F until easily pierced, about 20 minutes.
Serve with additional raw sage leaf slices. Pepitas or chopped salted nuts would be a good addition too.
Dessert was cooked on the stove pot. Well, I did use the oven to bake puff pastry squares. I purchase them frozen, so an easy defrosting and baking is all there is to it.
The topping was a mélange of chopped Granny Smith apples and mixed dried fruits and nuts slowly simmered until soft.
Add a scoop of vanilla ice cream, and dessert is done!
I came across something called prune plums. You can guess how they get that name! When dried, they become prunes!
I was not familiar with them, and when I researched, I found a recipe for Slivovitz. Since I had tasted one and didn't like it, (and I love plums), that is what I did with these plums. I won't know if the recipe is good until February, though, when it has turned into plum brandy! But there is a warning that it will be sharp and strong!
SLIVOVITZ
2 1/2 pounds prune plums. Do not pit them. Pits add a crucial characteristic to the Slivovitz.
1 1/2 cups sugar
3-inch cinnamon stick
2 x 1-inch pieces of lemon peel
4 cups vodka or so
1 half-gallon jar with a tightly closing lid.
Use a sharp paring knife to pierce the fruit through to the pit, cutting each plum 3 or 4 times and examining each one to make sure it is perfect. Bruised fruit ferments too quickly.
Pack the fruit into the jar and add the sugar, cinnamon stick, and lemon peel. Pour in enough vodka to cover the plums, and cap the jar securely.
Invert the jar every day for 2 weeks. It is a good idea to place the jar into a bowl, to contain any leakage, then pour the contents back into the jar. At the end of 2 weeks the sugar will have dissolved.
Place the jar in a closet or other dark space for 90 days. Be sure you carefully clean the bowl and the outside of the jar. There will probably be some sugar from any leakage.
Some of these recipes would make good sides for your holiday table so if you can't find the special squashes I used, acorn and butternut will be just as good.
As for the slivovitz, if you want to stop by some cold evening in mid-Feb, we'll share a toast!