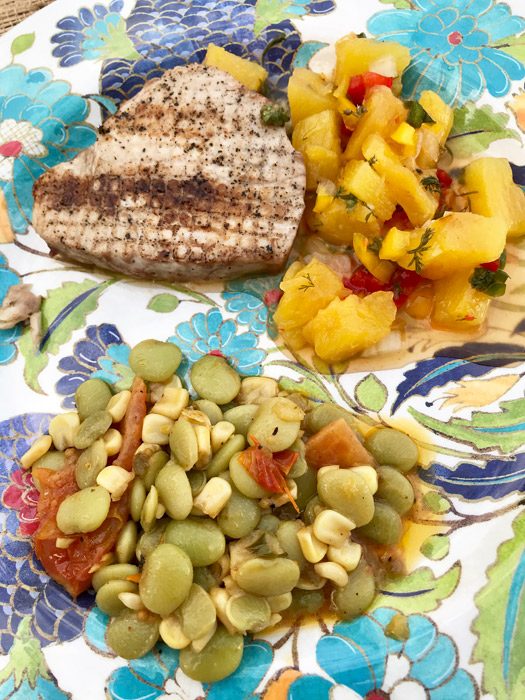 When tuna fishing is this good, and the evening weather is this fine, what else to do but to enjoy dinner on the deck, enjoying the beauty of the marsh and the songs of "our" purple martins?
Our grill is ever-ready on the deck, and the hail-pocked table and chairs have been refinished. It is time for the festive outdoor plates, too. Aaah, Summer! Despite the restrictions, we can still enjoy it, even if it's by ourselves.
When customers offered tuna steaks from their catches, we jumped at the chance! You may not have that opportunity, but fresh, locally caught tuna is in the seafood markets now.
I gave the first meal an Asian touch, marinating the tuna and accompanying it with coconut ginger rice, and steamed and buttered fresh green beans.
Next, we simply grilled tuna steaks with butter, salt, and pepper, and served them with pineapple salsa. Succotash made with fresh corn and butterbeans got a kick with Vivian Howard's amazing Red Weapons, spicy tomatoes in olive oil, and a flavorful, aromatic brine.
It is from Handy and Hot, her online pop-up style shop. So, while it is not regularly available, the recipe appears, (along with equally delicious Little Green Dress and Community Organizer and other unique condiments), in her new cookbook. "This Will Make it Taste Good," which will be available in October.
Call Gee Gee at Buxton Village Books to pre-order at 252-995-4240. It will go fast!
Visit Vivian's site to join the email list and be notified of future offerings. vivianhoward.com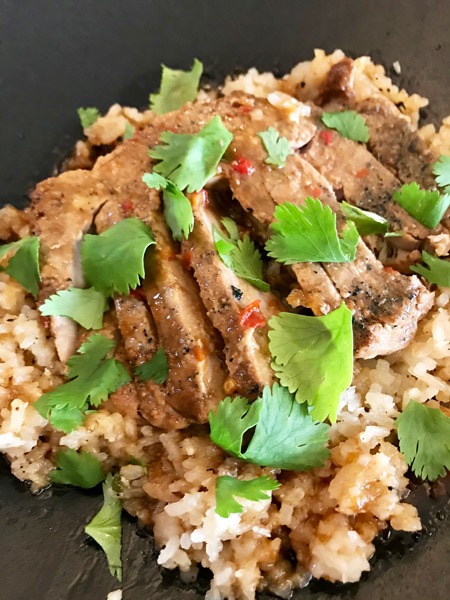 ASIAN FLAVORED TUNA
4 fresh tuna steaks
Marinade:
1/3 cup soy sauce
1/4 cup rice vinegar
2 tablespoons honey
2 tablespoons sesame oil
2 teaspoons mince garlic
1 tablespoon grated fresh ginger
1 tablespoon chopped shallot or green onion
1 tablespoon raw sesame seeds 1/2 teaspoon ground black pepper
Whisk all together until honey has dissolved.
Marinate the tuna steaks no longer than 30 minutes.
Remove steaks from marinade and place on hot grill for just a few minutes.
COCONUT GINGER RICE
1/4 cup butter
2 tablespoons pickled ginger (sushi ginger), drained and chopped
2 tablespoons minced garlic
1/2 cup finely diced sweet onions
2 cups white jasmine rice
1/2 cup full-fat coconut milk
4 cups water
1 teaspoon kosher salt
1/8 teaspoon freshly ground white pepper
Melt butter in medium-sized pot over medium heat.
Add ginger, garlic, and onions, stir frequently until onions are transparent. Add rice, turning frequently until well coated. Add coconut milk, water, salt, and pepper and bring to a boil.
Reduce heat to low and simmer for approximately 20 minutes, until liquid is absorbed.
Remove from heat and let stand 5-6 minutes.
Turn rice into serving bowl and fluff with fork.
PINEAPPLE SALSA
4 cups fresh pineapple, chopped
1 small sweet onion, chopped
1 jalapeno, seeds and ribs removed (unless you want the extra heat), and thinly sliced
1/4 red bell pepper, chopped
Juice of 1 large lime
Fresh cilantro leaves, chopped
Mix all together in lidded storage container. Place in fridge overnight to allow flavors to meld.
SUMMER SUCCOTASH
1 pound fresh butter beans
3 ears fresh corn
1 tablespoons spicy tomatoes, variation of Red Weapons includes chopped Roma tomatoes,
 extra virgin olive oil, spice blend of your choice, and chili sauce.
Bring butter beans to a boil. Turn heat down and cook until tender, skimming occasionally.
When nearly done, add the spicy tomatoes and corn cut from the cob and continue until ready. Test with tip of a sharp knife.
There is good local seafood and fresh produce around now so experiment with unfamiliar species and enjoy dining al fresco at home this summer.