Island Cooking: Japanese for dinner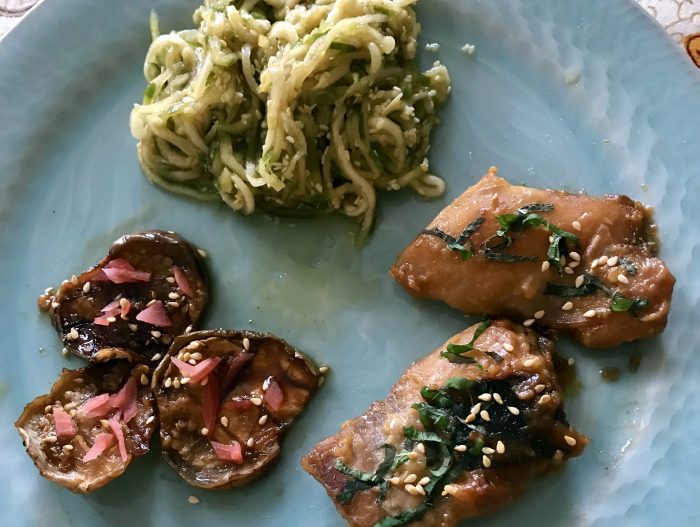 It is too easy for me when cooking regularly to fall into familiar food choices. This week I decided to go Japanese, a cuisine I don't usually prepare. I came across a delightful blog by Namiko Chen, a young Japanese cookbook author and recipe curator whose mission was to preserve the recipes her mother taught her when she was a young girl in Japan.
She left Japan at the age of 20 to attend college in the U.S. and remained. She now lives in San Francisco and has a family of her own, so her cookbooks will also serve to pass on traditional methods and recipes to her children.
Both of her books and her blog are titled Just One Cookbook (Vol.1 and 2). They are full of recipes for those who are new to Japanese home-cooking, with brilliant photos and loads of tips, including a guide to essential Japanese ingredients and step-by-step techniques. Most of her recipes are not time-consuming either.
You will find many of the pantry items at Connor's Supermarket in Buxton and the rest can be ordered online and delivered to your door in a few days. There are some you probably already have on hand.
I hope you will explore this food tradition, but be forewarned – you won't be learning all the fancy knife tricks on display at popular Japanese-American restaurants!
Let's begin with Kombu Dashi (Vegan Dashi) is a basic soup stock with umami flavor. It is very easy and only needs two ingredients and some time to steep.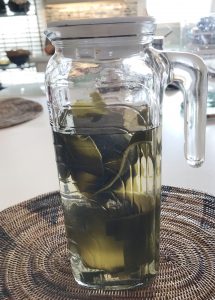 KOMBU DASHI
1 piece kombu (dried kelp) (or dried shitake mushrooms)
4 cups water
Kombu is ready to use so no need to rinse. That will, in fact, wash off much of the umami flavor. Make several slits to release more flavor.
Place in a large glass bottle and add the water. Cover.
Let sit in the fridge overnight.
Remove kombu and reserve. Dashi is ready for use and can also be stored in the fridge for 4 or 5 days or in the freezer for 2 weeks.
The reserved kombu can be used to make a sweet and savory side dish, tsukudani.
KOMBU TSUKUDANI
2 ounces. used kombu (from dashi making)
1/2 teaspoon sesame seeds
FOR SEASONING
1 cup water
1 tablespoon sake or cooking sake
1 tablespoon mirin
1 tablespoon unseasoned rice vinegar
2 tablespoons soy sauce
1 teaspoon sugar
1/2 teaspoon katsuobushi (dried bonito flakes) Omit if you want this to be vegan.
1 dried red chili pepper
Remove the seeds from the chili and cut the chili into thin rounds.
Transfer the kombu into a medium saucepan. Add water, mirin, and sake.
Add rice vinegar, soy sauce, sugar, and dried bonito flakes, if using.
Add chili rings and bring the mixture to boil over medium heat.
Once boiling, reduce heat to low and simmer until the liquid is almost evaporated, about 20-25 minutes. If kombu is still not tender, add water and continue to cook.
Sprinkle with sesame seeds and serve.
Can be kept on fridge for up to 2 weeks.
How about an unusual use for clams? Japanese Clam Miso Soup is a light version of Hatteras-style clam chowder without the add-ins! Just clams and broth.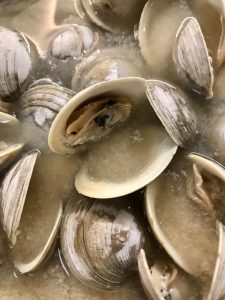 JAPANESE CLAM MISO SOUP
1/2 pound Manila clams
2 cups water
1 piece kombu (not used from dashi-making)
2 tablespoons miso
1 tablespoon sake
De-grit clams by soaking in very salty water.
Put water and kombu in saucepan and cook on medium heat for a few minutes then add clams and miso.
When small bubbles form along the edges, remove the kombu. When boiling, turn down the heat.
When all the clams open, add sake. Taste and add a pinch of salt if needed.
Turn off the heat and serve while the clams are still tender.
If you can find Shiso (Perilla), a Japanese herb, slice into thin chiffonade to garnish soup. You can substitute Thai basil.
What is Japanese food without noodles? There is a variety of them for specific dishes, but most can be used interchangeably. I particularly like the warm, nutty taste of buckwheat soba. It makes a satisfying, flavorful salad that can be served chilled or at room temp that is ideal for light summer suppers on the deck.
SOBA NOODLE SALAD
7 ounces dried soba noodles ( 2-3 bundles for 4 servings)
1 tablespoon roasted white sesame seeds
Thin slices of kombu, scallions, mushrooms, radish (Daikon if you can get it), cucumber, carrot, bell pepper, basil or whatever you have on hand.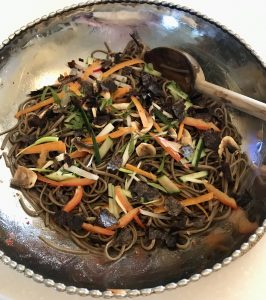 FOR THE DRESSING
1 tablespoon neutral-flavored oil (rice bran, canola, grapeseed)
3 tablespoons roasted sesame oil
1/2 teaspoon crushed red pepper (red pepper flakes)
3 tablespoons honey or, for vegan, maple syrup
3 tablespoons soy sauce
Combine vegetable oil, sesame oil, and crushed red peppers in small saucepan.
Whisk all together and infuse the oil over medium heat for 3 minutes.
Add honey and soy sauce to the oil mixture and whisk until the honey is completely dissolved.
Bring water to a boil in a large saucepan. Do NOT add salt to the water. Cook soba noodles according to package directions. You want them to be al dente.
Drain in a colander and rinse under cold running water to remove excess starch and to stop the cooking.
Place in salad bowl and add vegetables. Toss together and serve.
A light and refreshing side dish is a cooling Japanese cucumber salad with sesame soy vinaigrette. I like to spiralize the cuke, but I used one that was so small that we had to slurp the salad like Mom wouldn't let you do with spaghetti! I suggest a large American cucumber. Using a vegetable peeler, make alternating slices down the long side.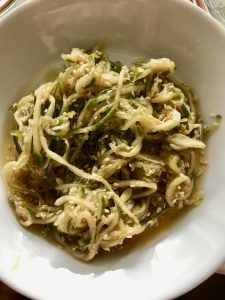 JAPANESE CUCUMBER SALAD
1 tablespoon dried wakame seaweed
1 American cucumber
1/4 teaspoon Kosher salt for sprinkling on cucumber
 FOR THE VINAIGRETTE
3 tablespoons toasted white sesame seeds
1 tablespoon soy sauce
3 tablespoons unseasoned rice vinegar
2 tablespoons dashi
1/2 tablespoon sesame oil
1 tablespoon sugar
Cover and soak 1 tablespoon dried wakame in water until it softens and hydrates, about 5 minutes.
Spiralize cucumber. If you don't have a spiralizer use very thin slices. Sprinkle with kosher salt and gently massage them.
Let stand for a few minutes then squeeze out excess water.
Transfer to a bowl and add wakame.
Combine the dressing ingredients in a small saucepan and cook over high heat until sugar dissolves completely. Set aside to cool.
Pour dressing over cucumber and wakame and mix.
A fairly well-known Japanese dish is Chicken Yakitori. My original plan was to skewer the chicken and grill it on my little Korean charcoal grill using Thai Thaan Charcoal but "things" got in the way!
Anyway, the Japanese sometimes use a skillet, so problem solved!
I usually prefer chicken breasts, but thighs are recommended as they don't dry out as quickly.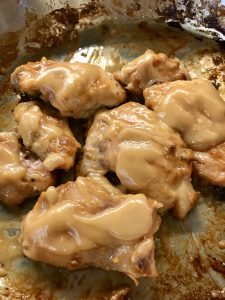 CHICKEN YAKITORI
1 pound boneless, skinless chicken thighs at room temp., trimmed of excess fat
Neutral-flavored oil
FOR THE YAKITORI SAUCE
1/2 cup soy sauce
1/2 cup mirin
1/4 cup sake or cooking sake
1/4 cup water 2 tablespoons brown sugar, packed and leveled
Pour a small amount of oil into saucepan/skillet.
Heat the oil on high and add chicken thighs.
When they start to turn golden brown turn them over and cook thoroughly.
When cooked add the cooking sauce, being sure to coat the chicken.
Poke the largest piece with a skewer. If clear juice runs out it is done.
Remove from heat, garnish with sliced Japanese pickled red ginger and serve.
Experiment a little and enjoy yourself!