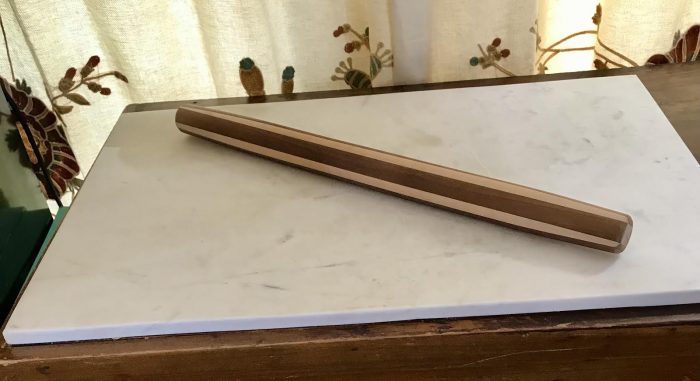 Many years ago now, when I first moved to London, I went to work at Divertimenti, a brand new specialty cookware store on Brompton Road, (one-of-a-kind before they became popular.) The owners/buyers carefully curated every single item. Each and every piece was useful, good-looking, well made, and many were new to the market and extremely unique.
We catered to chefs and the burgeoning home cook movement as no one else did. That was a big, big advantage for me. I didn't merely direct someone to a saucepan, but had the time to explore specific needs and the reasons for them. Customers loved to discuss cooking and equipment, and I learned more than I ever could have imagined from them – more than they learned from me!
I quickly got hooked on cookware and implements, and got some amazing tips from both owners and customers. It was my favorite job ever, and I have had some pretty amazing jobs!
If you, like me, are getting tired of being in the kitchen so much, maybe it is time to treat yourself to a new gadget! I never need an excuse, so have some very cool things that I enjoy working with.
Allow me to show you some.
There are some recipes, especially baked goods, that require accurate measurements, which is not normally "my thing." I am more of a sniff and taste cook. But that is why my baking often doesn't turn out well, so, bring on good measuring tools.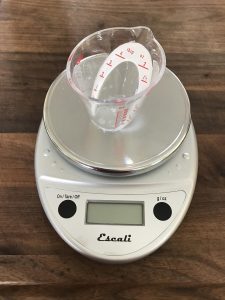 In addition to the usual cups and spoons, I often use a kitchen scale. A bonus is that it measures in grams or ounces. Simply place a bowl on top, turn the scales on, and tell it which measurement you want.
I also love the mini-measuring cup that calculates up to four tablespoons and two ounces. It is easier than dipping the normal tablespoon into the flavoring four times, and it eliminates spills with liquid.
When cooking some foods, particularly meat, the best indication of correct doneness is temperature. For beginning cooks who have yet to gain experience and an intuitive sense of when food is properly cooked, thermometers are essential.
I use two types, a digital thermometer that reads from -58F to 572F or-50C to 300C. It is very helpful when I am preparing something from a European cookbook.
Since I have returned to the States, I have become used to American calculations again, and that requires a translation. And, for me, the conversions require a calculator! To go from Celsius to Fahrenheit, double the C figure and add 30. It is not exact, but close enough. Don't even think of converting in the other direction!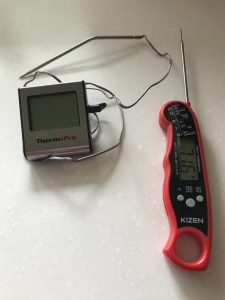 For larger pieces in the oven, the thermo probe is ideal. You insert the probe into the meat, and leave the reader that is connected to it with a long-enough wire on the counter. You don't have to open the oven to check the temp, so the heat remains stable. It also has the option to time the cooking and, again, you can select a Fahrenheit or Celsius unit of temperature.
On the stovetop is a flame tamer (heat diffuser) that spreads the burner's heat evenly around the base of the cooking vessel, preventing hot spots and uneven cooking. It is especially useful, even necessary, with clay pots.
I used to have a bulky wooden block to hold my knives until I discovered the lighter and much smaller round, soft-touch holder that keeps the blades separated and sharp. The Sim Prium holds a lot of knives of all sizes, and takes up very little space on the countertop. A Chantry knife sharpener sits nearby, too.
I have a very cool Skeppshult handmade pepper/spice grinder from Sweden. It is made of cast iron and its lid is Swedish walnut. It is a beautiful example of Scan design, and I love using it. I tend to prefer grinding my own spices, so this gets a lot if use. I also use it for Balinese long peppers that don't quite fit into my standard pepper mill. Simply place the whole spices into the larger bowl with the grooved bottom, then insert the small one, flat side down, then twist and grind.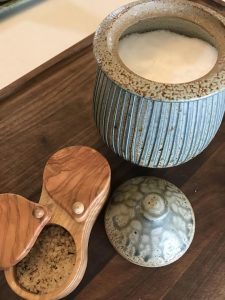 Salt has its special place in the kitchen too. Kosher salt that I use for cooking lives next to the stove in a beautiful North Carolina pottery container. The lovely finishing salt from Hatteras Saltworks is also nearby in a swivel top double wooden box. Both are convenient and ready to use.
A money-saver and a sustainable way to preserve food, especially leftovers, are beeswax wraps. They are available in many designs and sizes, and you can feel you are wrapping your food in art. Art in the kitchen is always a good thing!
Have you ever forgotten to get butter out of the fridge, and you are ready to make a sandwich or the toast has just popped up? There is a tool for that, too! Run it over the hard butter to get slivers of butter that are usable, or butter curls to serve with your homemade dinner rolls. One side of the blade is serrated so you can more easily cut slices or pats.
I use a lot of citrus peels as well, and this little parer produces the daintiest slices that are lovely for garnishing, or thicker slices when more flavor is the point. It's also a little quicker than using a paring knife.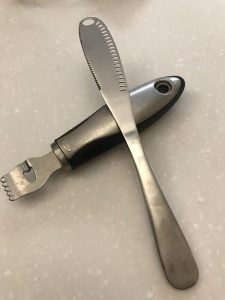 Let us not forget wine! A tool that Divertimenti introduced to the world outside of its native France is one I still cannot do without, and one I have often shared with others. The wonderful Le Creuset corkscrew is foolproof, and the foil cutter makes it even easier to use. A unique quality is its single-direction turning of the screw. Insert the point into the cork and make right (clockwise) turns until it pulls the cork out of the bottle. Et voila!
I have a baking station on an antique cupboard that is the right height for rolling dough, and is lower than a standard counter. On it permanently sits a marble slab that keeps the dough cool while you work it, and I work it with the most beautiful, well-balanced rolling pin ever seen that was made for me by my Hatteras friend, Kal Gancsos.
Oh, the simple things that give me pleasure in the kitchen! This includes some stylish cleaning products from guess where – Swedish dishcloths make washing dishes or cleaning the counters somehow feel glamorous, and they are environmentally sound.
The little scrubber, also Swedish, does not scratch, but does clear off any sticky items, and the washcloth replaces hundreds of paper towels. Both are washable, (not for the dryer though), and reusable time and time again. Plus, they are pretty! They sit here on a very useful plastic coated and over-the-sink rack. It is great for drying, for rinsing produce, and for defrosting, too. I have two, one for each sink, and they get used for one thing or another every single day.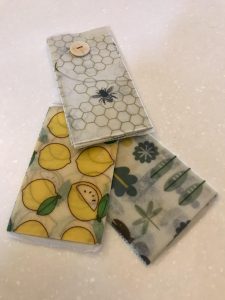 And last is my favorite kitchen hand soap by Method. It is formulated to remove odors from handling garlic and onions, (staples in much of my cooking), and it really does a good job. It has a clean, light fragrance, (I use lemon grass), and has a very well calculated rate of release, which is just enough.
A less expensive alternative, by the way, is to rub your hands over a stainless steel object, (a large serving spoon is ideal), while letting cold water from the faucet run over your hands. It eliminates the odors but doesn't serve to clean your hands, though.
I appreciate that there are excellent cooks everywhere who own a small stove, one or two knives, two or three pots, and a skillet, and they create fabulous meals, but I am not one of them. I depend on my tools and gadgets, and thoroughly enjoy using them!
Another time, we will delve into my collection of clay pot cookware, and why I love them. Here is a hint: a favored, revered cookbook author believes that clay pot cooking is of the earth, comforting, and imparts the flavors of the earth. Metal cookware, in contrast, is of fire, and harsh. Not too sure about this, but it's something worth contemplating, and I know I feel good using my clay. There are definitely some health and flavor benefits.