This has been a wild ride unlike anything most of us on the islands have experienced.
And we have experienced a LOT!
A collision of a major hurricane far offshore and a nor'easter provided us with days and days of "what the heck?"
I don't even want to contemplate what would have been had it come to us, or even closer to us.
As it is, restaurants and grocery stores started running out of stock as the road could not be opened for days. Good thing most locals stock up.
By now, many of us are used to being home during a storm, except for those who work during these events, so we just sat it out listening to the wind.
Just another storm-related time out!
So, dragging myself away from Netflix, engrossing books, and Facebook storm updates, I started trying new recipes again. So much for the resolve to try to lose those extra COVID-19 pounds. That will come soon!
An amazingly flavorful dish stands out. I have never had delicata squash, but it came in my Misfits box, and Evan Ferguson fortuitously posted an irresistible picture so I had to go for it!
So, I roasted that little squash and some cashews. Deviating just a bit from the recipe, I pulled out some Boursin from the fridge… et voila! I loved it and so did Ernie, who could happily live without another veggie dish again.
It was so good that I will try it with other winter squashes.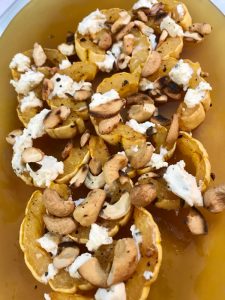 ROASTED DELICATA SQUASH
Extra virgin olive oil
Small delicata squash
Handful of cashews
Boursin cheese
Kosher salt and fresh ground black pepper
Slice the squash into half lengthwise and remove the seeds. Cut the squash into 1 inch half-moons.
Line a sheet pan with parchment paper and arrange the slices.
Brush both sides with olive oil and season with salt and pepper.
Roast at 400 degrees until golden brown when a knife can easily be inserted, about 8-10 minutes.
In the meantime, dry roast cashews just until they begin to let off their aroma.
Remove the cooked squash to a serving dish.
Sprinkle the nuts over the slices and dot with the Boursin cheese.
The one plant that has performed for me this season is the ubiquitous jalapeno pepper. You can bet on me planting more than one next year, especially since they were the only productive fruits in my garden, apart from the herbs that were truly shining stars!
I had two mangos, so I decided to put them together with jalapenos in a cocktail jelly.
The most time consuming effort is the fine chopping, but I enjoy that. The mango presents a challenge, so I suggest you slice it as close to its core as you can – (you will feel it with your knife) – and score the flesh in two directions.
Turn the pieces upside down, invert, and cut off the small pieces. You can then dice them.
Get creative with its use – I am looking forward to using it with seafood! It is also delicous as a topping for good crackers or a baguette with cream or goat cheese. And what a super gift!
MANGO JALAPENO PEPPER JELLY
5 1/2 cups granulated sugar
1 1/2 cups finely chopped red or orange bell pepper (1 large or 2 small)
1 cup finely chopped fresh mango, peeled and cored (2 medium sized mangos)
1/2 cup finely chopped apple, peeled and cored (1/2 medium size apple)
1 1/3 cup apple cider vinegar
2 medium jalapeno pepper ( I remove the seeds but if you want more heat leave them in)
1/2 teaspoon butter
2 tablespoons fresh lemon juice
1 packet Certo, liquid pectin (3 ounces)
Combine the sugar, bell pepper, mango, apple, jalapenos, vinegar, and butter in a large, heavy pot. Stir to combine.
Bring the mixture to a boil and boil for 10 minutes, stirring frequently.
Add the fresh lemon juice and pectin and restore to a vigorous boil. Boil for 1 minute, stirring continuously.
Remove from heat and ladle into clean jars.
Cover jars and allow to sit for 24 hours at room temp. Setting will occur as the jam cools.
After 24 hours refrigerate or freeze.
I always look forward to plum season! I like fruit and protein together, (well, via some careful combinations), so since I had thin sliced chicken breasts in the freezer, here's what I did, and will do again – perhaps with other fruits as well.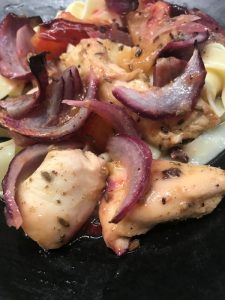 SHEET PAN CHICKEN WITH ROASTED PLUMS AND RED ONIONS
2 teaspoons fennel seed
2 tablespoons fresh lemon juice
1 teaspoon grated lemon zest
4 garlic cloves, finely minced
2 teaspoons honey
1/4 teaspoon ground allspice
Large pinch red pepper flakes
1 pound thin, skinless chicken breasts
Kosher salt and fresh ground black pepper
2 cups ripe plums, pitted, and cut into 3/4inch thick slices
6 fresh thyme sprigs
1 medium red onion, peeled and sliced from root to stem in 1/2 inch wedges
Extra virgin olive oil
2/3 cup torn basil
sea salt
Toast fennel seeds in a small skillet over medium heat, stirring, until fragrant, about 2 minutes.  Pound with mortar and pestle until coarsely crushed.
Put seeds into a large bowl and stir in lemon juice, zest, garlic, honey, allspice, and red  pepper flakes.
Season chicken generously with salt and pepper and add to the bowl, turning the pieces to coat with marinade.  Mix in plums and thyme sprigs.
Refrigerate for at least 2 hours or up to 24 hours.
When ready to cook, heat oven to 425.
Put chicken, plums, and thyme on a rimmed baking sheet lined with parchment.  Add onions, spreading them among the chicken and plums.
Season onions and plums lightly with salt. Drizzle everything with olive oil.
Roast until chicken is golden and cooked through, about 30 minutes.
Transfer to serving plates and drizzled a little of the pan drippings over and garnish with sea salt and basil.
PLUM CAKE "TATIN"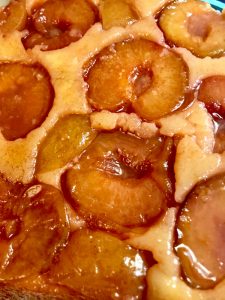 6 tablespoons (3/4 stick) unsalted butter at room temp, plus extra for greasing the pan
10-12 plums, halved and pitted
1 3/4 cups granulated sugar
2 extra large eggs at room temp
1/3 cup sour cream
1/2 teaspoon grated lemon zest
1/2 teaspoon vanilla extract
1 cup plus 2 tablespoons all-purpose flour
1/2 teaspoon baking powder
1/4 teaspoon kosher salt
confectioners' sugar
Preheat oven to 350. Generously butter a 9 inch baking dish and arrange the plums in the dish, cut side down.
Combine 1 cup of the sugar and 1/3 cup water in a small saucepan and cook over high heat until it turns a warm amber color, about 360 on a candy thermometer. Swirl the pan but don't stir. Pour evenly over the plums.
Meanwhile, cream the 6 tablespoons of butter and the remaining 3/4 cup sugar until light and fluffy.
Lower the speed and beat in the eggs one at a time.Add the sour cream, zest, and vanilla and mix until combined.
Sift together the flour, baking powder, and salt, and with the mixer on low speed, add to the butter mixture. Mix only until combined.
Pour the cake batter evenly over the plums and bake 30-40 minutes, until a cake tester comes out clean.
Cool for 15 minutes, then invert the cake onto a flat plate. If a plum sticks, ease it out and replace it in the design on top of the cake.
Serve warm or room temp. Dust with confectioners' sugar.
And then there are sea scallops!
They have been abundant and Avon Seafood in Hatteras has been offering them fresh lately. So, of course, I have been stocking up.
They freeze well, but don't vacuum pack them – that process dries them. I use small freezer containers and save enough for one meal in each one. If you have guests, (and at some point you will again), you can always get more packs out of the freezer
I still have fresh corn and good potatoes, so I made a luscious chowder.
I am embarrassed to admit that I don't make my own seafood stock, so I promise I will and will pass it on. In the meantime, I use an excellent stock concentrate, Glace de Fruits de Mer Gold's Classic Seafood stock. But you can always use chicken broth with seafood. Conner's carries the best – Anne's – that really tastes homemade.
SIMPLE SCALLOP & CORN CHOWDER
Tablespoon unsalted butter
1 pound scallops
2 ears of corn, cut off the cob
1/2 pound potatoes
1 large shallot
1/2 cup dry white wine
1 cup seafood stock or chicken broth
1/2 cup heavy cream
Hatteras Saltworks new Lemon Pepper Sea Salt
Pat the scallops dry with paper towels and remove the small side muscle.
Slice into quarters and season with lemon pepper sea salt.
Slice corn kernels off the cob
Peel and dice potatoes.
Mince shallots.
Melt the butter in a stock pot and add the shallots to soften them, not brown them.
When soft, add potatoes and stir to mingle the flavors.
Pour in the wine, stock, and cream and bring to a gentle simmer until potatoes are tender, about 15 minutes.
Add scallops and corn and continue simmering to heat through.
Taste for seasonings and add more if necessary.
Home cooking has taken on more importance for obvious reasons. I would love for you to share your favorites with us! Please feel free to contribute a recipe that you love, and tell us a little about your choice. And please send a pic!