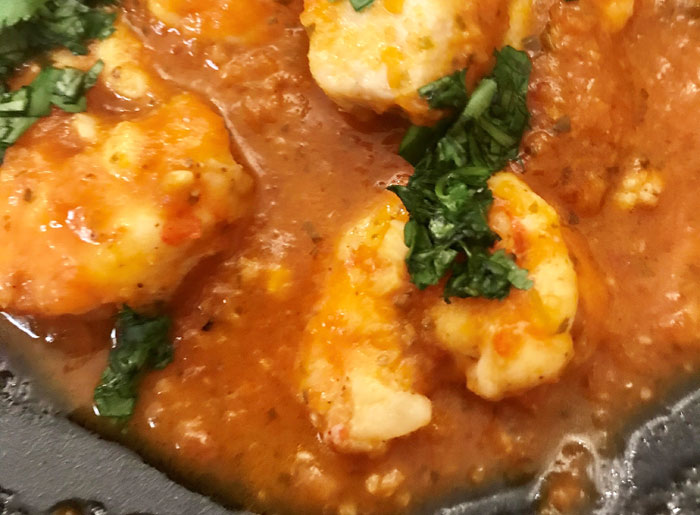 "Who'd a thunk it?"
A fresh shrimp recipe in January?
There have been BIG "shrimp boat cities" in the ocean this winter and they are bringing in impressive catches.  Fresh shrimp is in the fish houses now at a great price!
Nobody remembers anything like it.  It is the talk of the docks!
So, we will enjoy shrimp in a warming stew because everyone loves a good wintertime stew.
Moqueca, a Brazilian shrimp and fish stew recipe from America's Test Kitchen, is full of brightness, freshness, richness, and sweetness and a touch of heat.
I am using shrimp, of course, and wahoo (from the freezer) because of its taste and also it's firm texture – one that holds up well in such a dish.  The other ingredients are already in my pantry or can be easily obtained.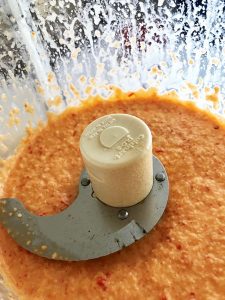 MOQUECA
Pepper Sauce:
4 pickled hot cherry peppers (3 ounces).  Usually sold jarred next to the pickles or roasted red peppers, I buy them at Conner's.  My favorite brand is Pappadew.
1/2 onion, chopped course
1/4 cup extra-virgin olive oil
1/8 teaspoon sugar
Kosher salt
Stew:
1 pound large shrimp (what they are catching now), peeled, deveined, and tails removed
1 pound skinless fish fillets (3/4 to 1 inch thick), cut into 1 1/2-inch pieces.  I used wahoo.  A firm-flesh fish is essential.
3 garlic cloves, minced
Kosher salt and fresh ground black pepper
1 onion, chopped coarse
1 (14.5-ounce) can whole peeled tomatoes
3/4 cup chopped fresh cilantro
2 tablespoons extra virgin olive oil
1 red bell pepper, stemmed, seeded, and cut into 1/2-inch pieces
1 green bell pepper, stemmed, seeded, and cut into 1/2-inch pieces
1 (14-ounce) can coconut milk
2 tablespoons lime juice
Stew base. Photo by Lynne Foster

FOR THE PEPPER SAUCE: Process all ingredients in food processor until smooth, about 30 seconds, scraping down side of bowl as needed.  Season with salt to taste and transfer to separate bowl.  Rinse out processor bowl.

FOR THE STEW: Toss shrimp and fish with garlic, 1/2 teaspoon salt, and 1/4 teaspoon black pepper in bowl. Set aside.
Process onion, tomatoes, and their juice, and 1/4 cup cilantro in food processor, until finely chopped and mixture has texture of puréed salsa, about 30 seconds.
Heat oil in large Dutch oven over medium-high heat until shimmering. Add red and green bell peppers and 1/2 teaspoon salt and cook, stirring frequently, until softened, 5 to 7 minutes.  Add onion-tomato mixture and 1/2 teaspoon salt.  Reduce heat to medium and cook, stirring frequently, until purée has reduced and thickened slightly, 3 to 5 minutes (pot should not be dry).
Increase heat to high, stir in coconut milk, and bring to boil (mixture should be bubbling across entire surface). Add seafood mixture and lime juice and stir to evenly distribute seafood, making sure all pieces are submerged in liquid.  Cover pot and remove from heat.  Let stand until shrimp and fish are opaque and just cooked through, 15 minutes.
Gently stir in 2 tablespoons pepper sauce and remaining 1/2 cup cilantro, being careful not to break up fish too much. Season with salt and pepper to taste.  Serve, passing remaining pepper sauce separately.
Moqueca is often served with Pao de Queijo (Brazilian Cheese Bread)
The bread is based on a classic pate de choux dough that the Test Kitchen staff have altered to makes it more a batter than a dough and produces rolls that are crackly on the outside, bready just under the crusts, and gooey at the very center!
PAO de QUEIJO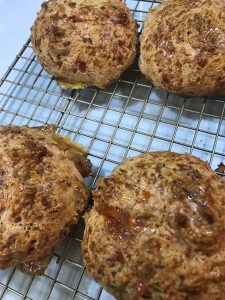 Makes 8 rolls and, as added bonus, is gluten free.
3 cups tapioca starch (also called flour or meal)
2 1/4 teaspoons kosher salt
1/4 teaspoon baking powder
2/3 cup plus 2 tablespoons whole milk
1/2 cup vegetable oil
1 1/2 tablespoons unsalted butter
3 large eggs
3 1/2 ounces Parmesan cheese, finely grated (1 3/4 cups)
3 1/2 ounces Pecorino Romano, finely grated (1 3/4 cups)
1 teaspoon water
Using stand mixer fitted with paddle, mix tapioca starch, 2 teaspoons salt, and baking powder on low speed until combined, about 30 seconds.
Combine milk, oil, and butter in medium saucepan and bring to boil over high heat. With mixer running on low speed, working quickly, pour milk mixture over tapioca mixture and combine to mix on low speed until all ingredients are incorporated, about 3 minutes longer.
Add 2 eggs and mix on low speed until dough comes together, turns shiny and sticky, and clings to sides of bowl, about 8 minutes, scraping down paddle and bowl halfway through mixing.
Add Parmesan and Pecorino and mix on low speed until cheeses are incorporated, 30 to 60 seconds. Mix with rubber spatula to ensure mixture is fully incorporated.  Remove bowl from stand mixture and press plastic wrap directly onto surface of dough.  Refrigerate for at least 2 hours or overnight.
Adjust oven rack to middle position and heat oven to 450 degrees. Stack 2 baking sheets and line top sheet with parchment paper.  Divide dough into 8 balls (about 3 1/2 ounces).  To form rolls, lightly dampen your hands with water and roll balls between your palms until smooth.  Evenly space rolls on prepared sheet.
Whisk 1 egg, 1 teaspoon water, and 1/4 teaspoon salt together is small bowl. Brush egg mixture over tops of rolls.  Place rolls in oven and immediately reduce oven temperature to 375 degrees.  Bake for 20 minutes.  Rotate sheet and continue to bake until rolls are deep golden brown and outer crusts are dry and crunchy, about 20 minutes longer.  Transfer rolls to serving platter and let cool for 5 minutes.
Well, I have a confession.  I mixed up the salt and baking powder measurements and 2 1/4 teaspoons of baking powder was not going to work!  It was already in the mixing bowl with the tapioca starch so there was no way to extract it.
I did not have enough tapioca starch to do another batch so went on a mad hunt for some on the island – to no avail.  I did find tapioca pearls and decided to grind them in the food processor.
No joy there either.  The pearls were far too hard to create a fine flour even with the sharp, whirring blades of the Cuisinart.
Amazon to the rescue; but I had to delay making the rolls for 2 days.
I did have a lot of tapioca pearls, so how about dessert?  What better than a rich and soothing tapioca pudding like Mom used to make?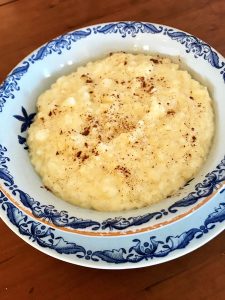 TAPIOCA PUDDING
Makes 6-8 servings
1/2 cup tapioca pearls
2 1/2 cups whole milk
1/4 teaspoon salt
1/2 cup sugar
2 eggs, separated
1 teaspoon pure vanilla extract
In a bowl, soak tapioca in 2 cups of room temperature water overnight. Drain water.
In a double boiler, heat milk until just no longer cold. Add salt and tapioca.  Continue heating until small bubbles appear at sides of pan.
Cover, turn heat to very low and cook for one hour. Make sure milk mixture does not simmer or boil.
Separate egg whites from yolks. Beat egg yolks and sugar together until light yellow in color.
Add a little of the hot mixture to the egg yolks and blend thoroughly. Then add the yolk mixture to hot milk mixture, stirring constantly.
Place the double boiler over medium heat and cook until tapioca mixture is very thick, about 15 minutes.
Beat egg whites until stiff. Slowly fold the egg whites into the hot tapioca mixture.  Stir in vanilla.
Serve warm or chilled.
On a sober note, a shrimp trawler went down in Pamlico Sound on its way home to Engelhard.  This is a reminder that the seafood we so enjoy sometimes comes at a heavy price.  In this incident, lives were lost as was the boat.  Remember the crews, the families, and the community in your prayers.