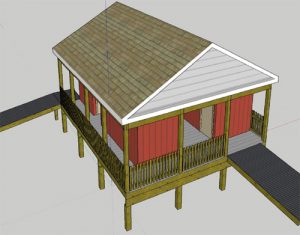 The Ocracoke Preservation Society (OPS) is requesting proposals from North Carolina licensed General Contractor firms to construct a Public Restroom Facility on the grounds of the Old Island Inn, in Ocracoke, North Carolina.
The project includes the construction of a gable-roofed building approximately 30′ X 26′ which shall contain six single-user restroom facilities and a combination of walkways and ramps to provide access.
The scope of the project includes all construction related to the building, the walkways and all associated plumbing, mechanical, electrical and landscaping elements. This scope does not include the construction of the septic system or drainage field. The true and complete description of the project shall be by the Bid/Construction Documents.
Bid/Construction Documents will be available on Monday, April 29, 2019 after 10:00 AM. Interested parties are advised to contact Ocracoke Preservation Society by phone or email as listed below.
Bid/Construction documents will be available in both digital form and as a hard copy, which may be picked up at OPS in Ocracoke or will be mailed by USPS on request.
Anyone wishing to visit the site may make arrangements to do so by contacting OPS. A site visit is not mandatory, but is highly recommended. Failure to visit the site shall not relieve the successful bidder from fully and completely executing the contract specifications.
Bids will be due on or before 2:00 PM on May 17th, 2019. Bids shall be sent or hand delivered to OPS in a sealed envelope clearly marked on the front "Public Restrooms Sealed Bid." Bids received after the due date and time shall not be considered. Should a storm or other occurrence interrupt the delivery of mail to Ocracoke, the due date shall be adjusted at the discretion of OPS.
Bids may also be submitted by email. Email bids shall be signed, scanned and sent as a pdf document.
The date/time stamp that appears on the email server at OPS shall determine the time and date the emailed bid was received without regard to the sender's records. Noting that there is sometimes a significant lag between sending and receiving an email, it is advisable that emailed bids be sent well in advance of the due date and time and that the bidder follow up with a phone call to assure the bid was received. OPS shall not be responsible for problems of timing or incomplete receipt of sent email, even if such problems may be attributed to a fault in the OPS system.
Bids shall be submitted on the form(s) provided in the Bid/Construction Documents.
OPS reserves the right to reject any and all bids and to waive formalities in the case of minor omissions and to re-bid the project should it be in the best interest of OPS to do so.
Ocracoke Preservation Society
49 Water Plant Rd.
PO Box 1240
Ocracoke, NC 27960
252-928-7375
info@ocracokepreservation.org
Include "Public Restrooms" in your subject line.