Cape Point Reopens for ORVs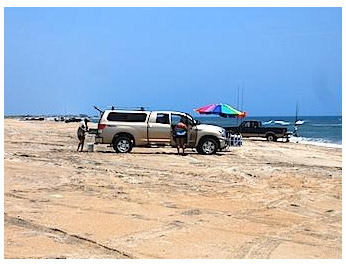 Cape Point reopened to ORVs at around 10 a.m. on Sunday, September 16, after a survey following Hurricane Florence found that black skimmer chicks that had previously been at the site were gone.
The very tip of Cape Point had been seasonally closed for the majority of the summer starting in late May due to bird nesting.
With the exception of seasonally closed ramps that reopen on October 15, all ORV ramps within the Cape Hatteras National Seashore on Hatteras Island were also open as of Monday, September 17. Night driving is also allowed at all open ORV ramps as of September 15, except for Ramp 38 where a sea turtle nest is established.
There are currently no ORV ramps open on Ocracoke, but the National Park Service has been working closely with the North Carolina Department of Transportation (NCDOT) in clean-up efforts along N.C. Highway 12.
"The dune [by the Ocracoke Ferry Dock] was impacted for more than a mile," said David Hallac, Cape Hatteras National Seashore Superintendent. "We've made it our priority to assist DOT in rebuilding the berm so that transportation can resume."
"NCDOT has done a phenomenal job of getting the roads cleared on Hatteras Island," he added. "We were so impressed by their work."