Beachgoers advised to be on the lookout for cold-stunned sea turtles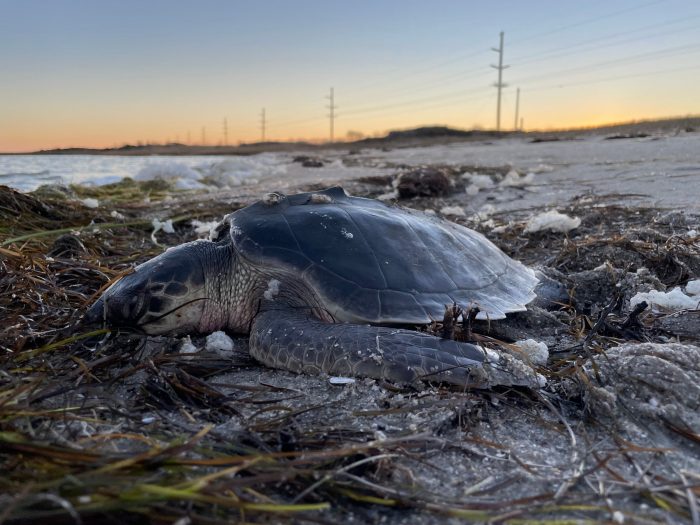 As the temperatures on Hatteras and Ocracoke Islands drop in the winter months, cold-stunned sea turtles begin to make an appearance along the soundside beaches.
The North Carolina Aquarium on Roanoke Island recently reported that five cold-stunned Kemp's ridley sea turtles and 22 green sea turtles were found on December 20 on Hatteras Island, bringing the total for the season so far to 52.
As cold-blooded reptiles, sea turtles derive heat from their surroundings, and when they become too cold, their metabolism slows, prohibiting them from moving and ultimately from migrating to warmer waters. This cold-stunned scenario can turn deadly, as once in an immobile and lethargic state, the sea turtles can have difficulty raising their heads above water to breathe, and can eventually drown.
Local volunteers regularly monitor the Hatteras Island shorelines after a cold spell, looking for cold-stunned sea turtles in need of assistance. The volunteers primarily search for stranded turtles along the soundside, covering private property in the villages and areas that are not routinely patrolled by the National Park Service.
The number of sea turtles that are rescued can vary greatly from year to year. The winter of 2019/2020 was a particularly busy season, with more than 100 sea turtles rescued after a single cold snap in January alone.
With a bout of freezing temperatures expected this weekend, beachgoers along the sound and oceanfront are advised to keep a lookout over the Christmas holiday.
How You Can Help:
If you spot a cold-stunned sea turtle on Hatteras Island, call 252-216-6892 (National Park Service, Cape Hatteras National Seashore)
If you spot a cold-stunned sea turtle north of Oregon Inlet, call 252-441-8622 (Network for Endangered Sea Turtles or N.E.S.T.)
For more information on NEST, and to make a donation or learn about volunteer opportunities, visit http://www.nestonline.org/.