Cape Hatteras National Seashore prepares for Hurricane Isaias; Ocracoke Campground closing Saturday morning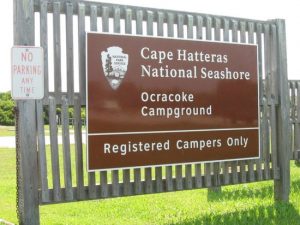 Cape Hatteras National Seashore (Seashore) is closely monitoring the projected path of Hurricane Isaias. As of this evening, regional forecasts show that the storm is likely to impact the Outer Banks starting Monday, August 3.
On Ocracoke Island, Hyde County announced a mandatory visitor evacuation starting at noon today. The Ocracoke Campground will close at 10 a.m. tomorrow.
As additional Hurricane Isaias forecasts become available, the Seashore will determine whether to close the Oregon Inlet, Cape Point, and Frisco campgrounds. Travelers should monitor Dare County's Hurricane Isaias webpage, and the Island Free Press, for county-related storm updates.
An increased rip current risk along all Seashore beaches is expected to begin today and continue through early next week. Visitors should stay out of the Atlantic Ocean until the risk of rip currents decreases. Visit www.weather.gov/beach/mhx for the latest beach conditions forecast.
For local weather updates, visit www.weather.gov/mhx. The Seashore's Operational Status Report at www.nps.gov/caha/planyourvisit/operational-status-report.htm provides the most up-to-date park-specific information and conditions.