CHNS and NOAA to Present Free Program on the Outer Banks' Ties to WWI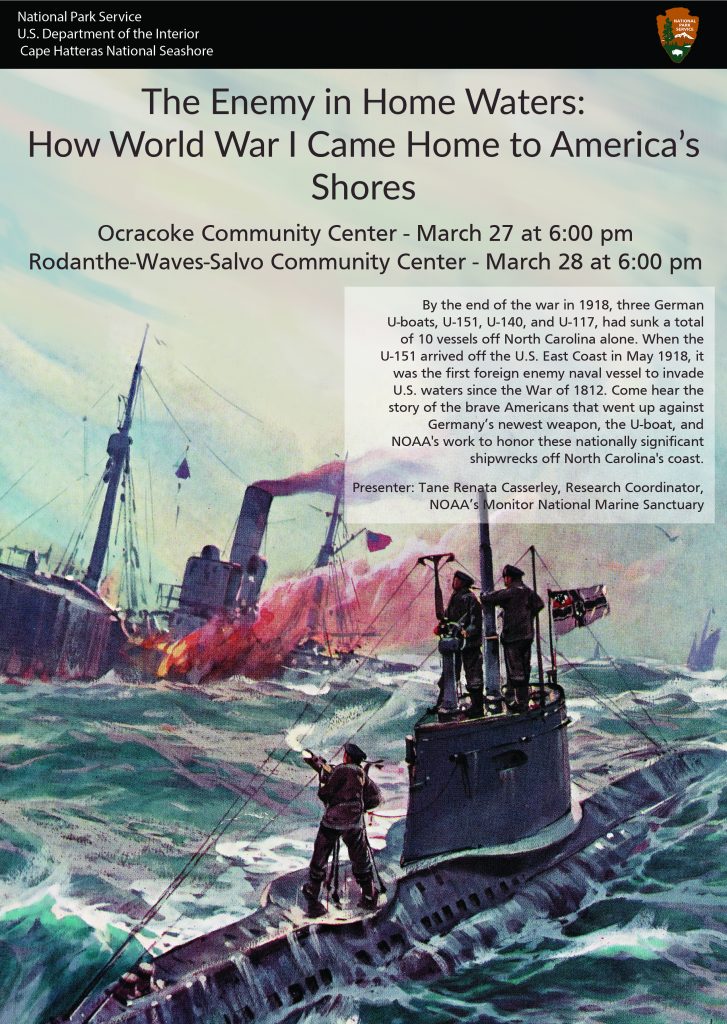 The Ocracoke Island community is invited to attend a free public program hosted by the Cape Hatteras National Seashore which explores the history of how the islands played a key role in World War I.
The program, entitled "The Enemy in Home Waters: How World War I Came Home to America's Shores," is being presented by a guest speaker from Tane Renata Casserley of the National Oceanic and Atmosphere Administration (NOAA), at the following location and date:
Ocracoke Community Center, March 27 at 6:00 p.m.
999 Irvin Garrish Hwy, Ocracoke, NC
By the end of WWI, three German U-boats had successfully sunk a total of 10 vessels off the coast of North Carolina alone. When the U-151 arrived off the East Coast in May of 1918, it marked the first time a foreign enemy naval vessel had invaded U.S. waters since the War of 1812.
The program will tell the story of the brave Americans who fought against this revolutionary new form of warfare, as well as NOAA's work in honoring these nationally significant shipwrecks that are dotted off the North Carolina coastline.
The program is free and open to the public, and all are welcome to attend.