For the first time in 16 years, a leatherback sea turtle nest successfully hatches on the Cape Hatteras National Seashore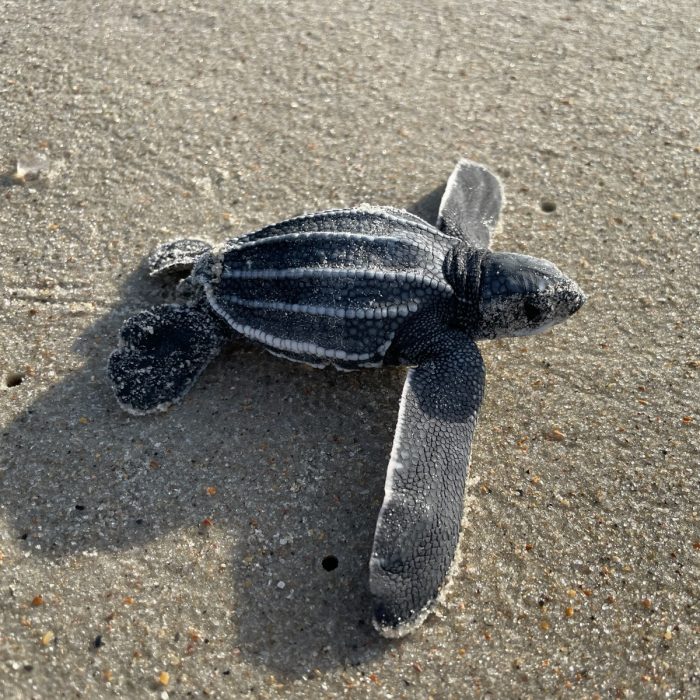 For the first time in 16 years, a leatherback sea turtle nest has successfully hatched on the Cape Hatteras National Seashore, (CHNS), with 19 hatchlings making their way to the Atlantic Ocean.
The leatherback sea turtle nest on Ocracoke Island, (the first one in 11 years), was discovered on June 19, 2023, and the nest with 93 eggs was found in the early morning hours during a routine turtle patrol.
Because the nest was right at the high tide line, park biologists relocated all of the eggs to a safer spot on the beach.
After 70 days of incubation, 19 baby sea turtles finally emerged starting on Monday night, August 28, per an update from CHNS.
The Leatherback (Dermochelys coriacea) is the largest sea turtle in the world, weighing up to 2,000 pounds and measuring up to 6.5 feet as adults.
Since record-keeping began, there have only been six leatherback sea turtle nests within the National Seashore, and only three have successfully hatched in the following years and locations:
2007: Ocracoke Island
2002: Hatteras Island
2000: Hatteras Island
Due to the highly active nesting season, visitors are advised to be aware of sea turtle nesting activity or hatchlings while visiting the local Outer Banks beaches, and to take a few steps to protect the wave of sea turtle nests that are now hatching on a regular basis.
Please fill in any holes in the sand, and remove beach equipment, (such as umbrellas and tents), from the beach when you leave, especially if they are near an established nest. If left on the beach, holes and left-behind beach gear can prevent nesting attempts, and can also be roadblocks for hatchlings who are trying to make a mad dash to the ocean.
In addition, hatchlings are very sensitive to light as they emerge from their nests, and can become disoriented towards any light that mimics the moon or stars over the ocean. As such, visitors staying in oceanfront accommodations that are close to established sea turtle nests are encouraged to turn off their outdoor lights and close their blinds or drapes after dark, so that the sea turtles don't mistake a stray porch light for the ocean waters.
Although it's late in the nesting season, visitors who notice any sea turtle nesting activity can also call the Cape Hatteras National Seashore to report the sighting at 252-216-6892.