Frisco Pier Completely Removed; Clean-up Work Remains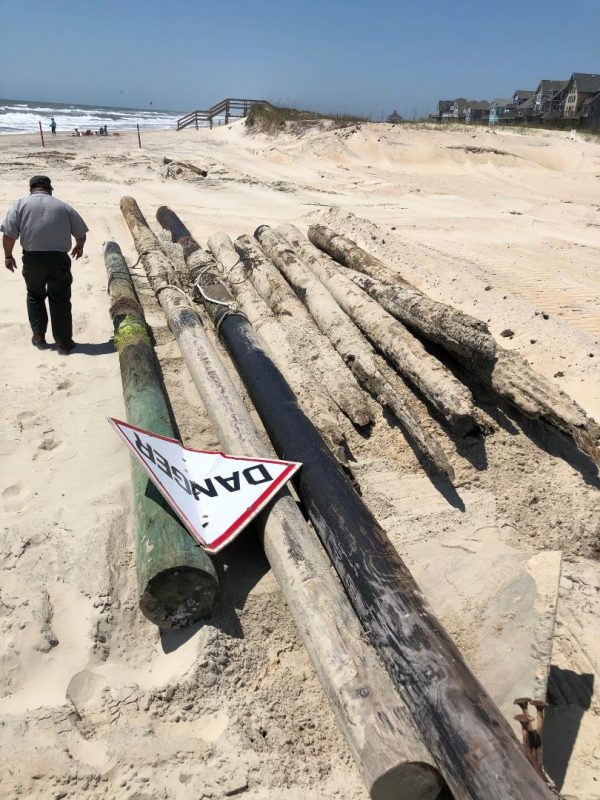 The former Frisco (aka Cape Hatteras) Pier has completely disappeared from sight, with the recent removal of the last slightly-visible offshore piling.
While the pier itself is gone, work will continue over the next few weeks as the last portions of the project are completed, per John Kowlok, Chief of Maintenance for the Cape Hatteras National Seashore. The equipment needs to be removed from the site, as well as the rest of the parking area. In addition, all the sand needs to be sifted to remove any remaining asphalt and base materials, and the dune at the project site will need to be restored.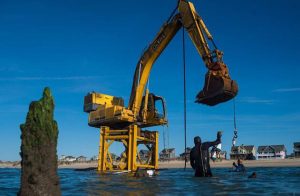 "This work will continue for the next few weeks [but] I am optimistic we will have the area cleaned up this spring," said Kowlok in an emailed statement. "Weather is always our determining factor."
The Frisco Pier removal project began in December 2017, and removal the Pier House itself, as well as the on-the-beach structures and pilings, took just a couple weeks to complete.
The hard part of the project was always tackling the pilings that were located in the ocean waters. The pier was originally 20 feet wide and 500 feet long, with a total of 263 pilings that needed to be removed during the course of the project.
Of these 263 pilings, 120 were completely hidden, (as they had broken off beneath the water's surface), and a custom modified excavator along with diver teams were utilized to tackle this trickier portion of the project.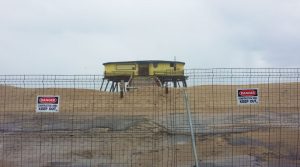 It was safety concerns of debris both in the water and washing ashore that prompted the project, which was first proposed in 2013.
The future of the former parking area at the base of the pier is still up in the air, as attention is currently focused on cleaning up the remainder of the site.
"This site is continually damaged from over wash and storms, and our first priority is restoring the dune to protect the site," stated Kowlok. "We are still looking at several options for this site and we are taking into consideration the visitors, homeowners, the road, and the preservation of the site itself."
In the meantime, the site continues to be barricaded for safety as crews complete the final stages of the long endeavor to remove the Frisco Pier.