Halloween sea turtle nest is the latest laid nest since at least 1997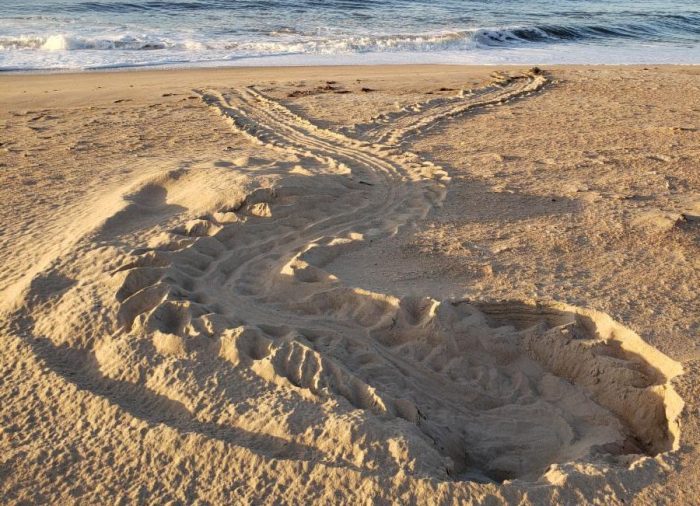 On Halloween morning, October 31, Cape Hatteras National Seashore (CHNS) biological technicians discovered a freshly dug green sea turtle nest almost a mile west of South Beach Road on Hatteras Island, on the borders of Buxton and Frisco.
The nest will reach its hatch window of 50-55 days between December 20 and 25. According to data on seaturtle.org, this recent nest is the latest laid sea turtle nest at the Seashore since at least 1997.
While 2019 was a record-breaking year for sea turtle nesting activity within the Cape Hatteras National Seashore (CHNS), 2020 has been a solid year for sea turtles as well, with a total of 228 nests recorded so far along the National Seashore beaches.
Per http://www.seaturtle.org/, which has monitored sea turtle nesting activity within the National Seashore since the 1970s, the majority of the 2020 nests are from loggerhead turtles, however, there have also been 15 green turtle nests and four Kemp's Ridley turtle nests recorded.
The nesting season typically winds down at the end of the summer, but due to the nearly two-month incubation period, hatching activity can last well into the fall. Once the eggs hatch, the hatchlings use a combination of cues to find the ocean when they emerge from the egg cavity, including the slope of the beach, and the reflection of the moon or starlight off the water.
Hatchlings are very sensitive to light as they emerge from their nests, and can become disoriented towards any light that mimics the moon or stars over the ocean.
As such, visitors along the oceanfront are encouraged to turn off their outdoor lights and close their blinds or drapes after dark, so that the sea turtles don't mistake a stray porch light for the ocean waters.
Beachgoers should also remove beach equipment, such as lounge chairs, umbrellas, tents and other items from the beach when they leave. If left on the beach, these items can prevent nesting attempts, and can also be roadblocks for hatchlings who are trying to make a mad dash to the ocean.
Visitors who notice any sea turtle nesting activity are advised to call the Cape Hatteras National Seashore to report the sighting at 252-216-6892.