Lighthouses have Big Opening Day with More Than 1,500 Climbers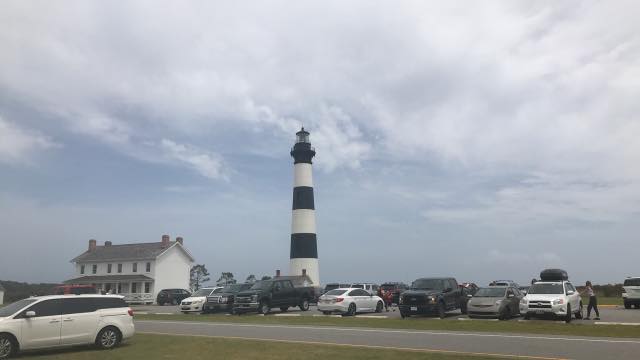 The Bodie Island Lighthouse and the Cape Hatteras Lighthouse both had big opening days on April 19, which was also a fee free day to mark the opening of climbing season.
Per Michael Barber, Public Affairs Specialist with the Cape Hatteras National Seashore (CHNS), all free climbing tickets – a total of 1,589 – were handed out to visitors by the early afternoon. Thankfully, the stormy weather forecasted for Friday held off until later in the evening, allowing visitors to enjoy the climb in sunny conditions all day long.
Both lighthouses are continually open for climbing through Columbus Day Weekend, now that the season has officially begun.
During the climbing season, ticket sales at each location begin daily at 9:00 a.m., with the last tickets sold at 4:30 p.m. For more information on regular climbing ticket prices, rules, and safety information, go to https://www.nps.gov/caha/planyourvisit/lighthouseclimbs.htm.
Full Moon Tours of the Cape Hatteras Lighthouse will also be offered on June 17, July 16, August 15, and September 14. Tickets for the full moon climbs can be purchased at www.recreation.gov starting at 10:00 a.m. three days prior to each tour date.
2019 also marks the 20th anniversary of the move of the Cape Hatteras Lighthouse, and to mark the occasion, CHNS will present daily interpretive programs on the epic journey the lighthouse made in the summer of 1999. The daily programs begin May 3 and continue through October 14, and interested attendees can meet National Seashore staff at the Hatteras Island Visitor Center Pavilion at 10:30 a.m. to hear the 20-minute presentation