Ocean Safety Cards Coming to Local Businesses, Visitors' Centers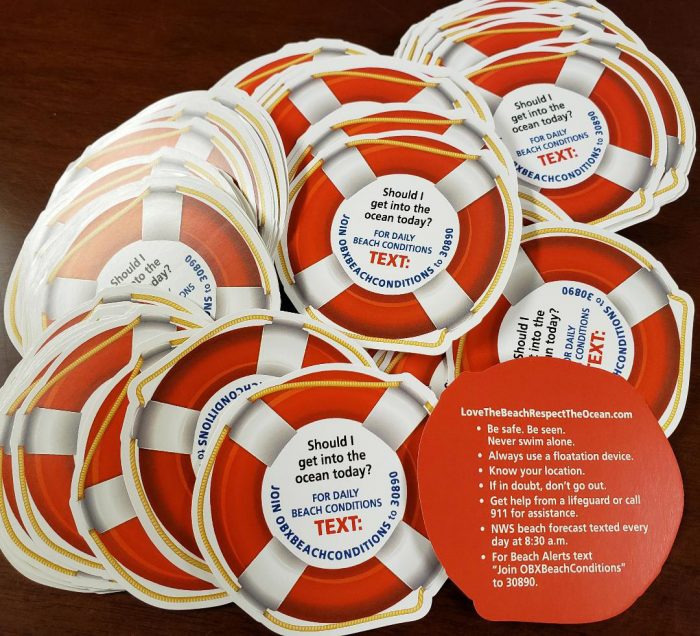 Ocean safety information cards and stickers are being distributed to visitors' centers and local businesses throughout the Cape Hatteras National Seashore to increase awareness about dangerous ocean conditions, and the text-based alert system that helps keep the public informed about current risks.
The cards and stickers were created through a partnership of Outer Banks Forever, Dare County, Outer Banks Visitors Bureau, Wesley's Way Foundation, and the Cape Hatteras National Seashore, and includes quick sign-up info for the Outer Banks-wide alert system.
In the summer of 2018, Dare County Emergency Management established a text-to-join beach alerts group which allows anyone to subscribe by simply texting "Join OBXBeachConditions" to 30890.
Subscribers receive beach-related National Weather Service alerts, which are issued 24 hours a day for the Outer Banks, and users may also receive condition reports posted by ocean rescue personnel. In addition to the text-to-join option, potential users can also sign up for Dare County Alerts and Notifications online at www.darenc.com/emergencyalerts.
200,000 ocean safety info cards and stickers have been purchased and received, and Cape Hatteras National Seashore is working with the Outer Banks Visitors Bureau to distribute the cards and stickers to visitors' centers and local businesses, such as pizza places, area tackle shops, realty companies, and grocery stores. Cards and stickers will also be distributed to local ocean rescue organizations and lifeguards.
Local businesses can reach out to Jessica Green at Outer Banks Forever if they'd like to be included in the initial distribution of ocean safety cards and stickers.
To sign up for alerts, and for more information: