Saturday's Beach Clean-up Sweeps the Shoreline from Coquina Beach to Ocracoke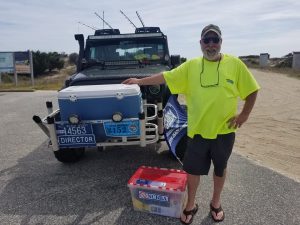 An Outer Banks-wide beach clean-up on Saturday, April 13, generated dozens of volunteers and plenty of trash, thanks to the efforts of the National Park Service (NPS), and the North Carolina Beach Buggy Association (NCBBA.)
The two organizations effectively co-hosted the day-long event, with the NPS conducting cleanups at the Bodie Island Lighthouse, the Old Cape Hatteras Lighthouse Site, and the Day Use Area on Ocracoke Island, and the NCBBA manning the ORV ramps from Salvo to Ocracoke, and handing out packets of information as well as trash bags to beachgoers.
Michael Barber, CHNS Public Affairs Specialist, said that the NPS had 41 volunteers for the day's cleanup, while NCBBA had roughly 16 volunteers stationed at the ramps. The NCBBA also held a corresponding "Adopt A Highway Clean Up" from Coquina Beach to Oregon Inlet Bridge, which included an additional half dozen volunteers or so.
The NCBBA sponsors these cleanup operations three times per year as part of one of their cornerstone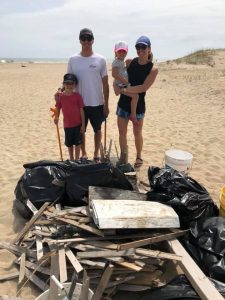 programs, Operation Beach Respect. During the cleanup operations, NCBBA members are present at all ORV access ramps to pass out literature and garbage bags to those planning to use the beach. The NCBBA asks that each person take a bag, and police the area they intend to use for litter. Upon leaving the beach, they deposit the bag at the ramp entrance for National Park Service employees to pick up for disposal.
The annual cleanups have been a tradition for NCBBA members, volunteers, and local residents, and have been going strong for nearly 40 years.
"37 years ago, someone came up with the idea that there are all these bottles, trash, and plastic bags left on the beach, so let's see if we can get the beachgoers to help us clean it up, and we've been doing it ever since," said Bill King, Chairman of Operation Beach Respect.
King reported that this past Saturday's cleanup was the first time that volunteers were located at Ocracoke Island ramps, and that the organization handed out a total of 109 packets and trash bags.
"Easter is a big week here on the island, so it's an [ideal] time to do the cleanup," said King. "We hand out a packet to each beachgoer and simply ask them to police the area that they are using that day."
"At the end of the day, we see bags of trash at the end of ramps from beachgoers, and we know that we've accomplished something," he added.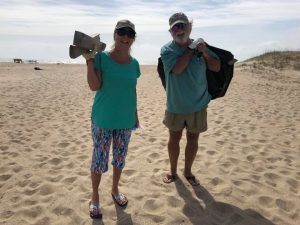 The cleanup is a massive undertaking, but the partnership between NCBBA and the NPS ensures that it's a continual success, with miles of shoreline covered.
"[Superintendent] David Hallac has been a real supporter of our group… I can't say enough about his willingness and cooperation to get involved," said King.
The next cleanup operation is slated for June, and the public is welcome to pitch in and spend another day making the local beaches a little brighter.
"[Operation Beach Respect] seems well received by both the island folks as well as the park service," said King, "and we are always looking for new volunteers."