Sea turtle nest excavation to take place in Buxton on Friday, Aug. 26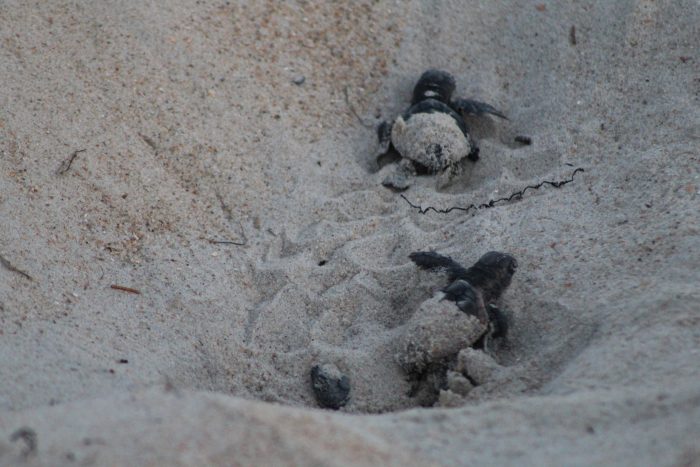 Visitors and residents on Hatteras Island are invited to join rangers at the Cape Hatteras National Seashore for a public sea turtle nest excavation tomorrow, August 26, at 10 a.m. in Buxton, per an update from the nonprofit organization, Outer Banks Forever.
The details of the event are listed below:
Parking location: Buxton Lifeguard Beach parking lot.
Nest location: 0.11 miles south of the Buxton lifeguard stand.
Time: 10 a.m. Please give yourself ample time to arrive! The excavation will begin promptly at 10 a.m.
Nest facts:
The nest being excavated is a loggerhead sea turtle nest.
The nest was laid on June 26 just north of Buxton village and was relocated to this location. Why? The nest was originally laid within the Buxton beach nourishment project; the nest needed to be relocated so that the project could continue.
98 total eggs were laid, and 97 are present in the nest. What happened to the last egg? It was taken for DNA sampling, helping to identify how many females are nesting this year from North Carolina, Florida, and the states in between.
The nest first hatched at day 57 of incubation on August 22, with a few more hatchlings emerging on August 25.
(If you plan to attend this event, make sure to bring water and sunscreen!)
As a reminder, the Outer Banks Forever's Adopt A Sea Turtle Nest program closes for the season on August 31, so there's still time to adopt a nest.
If you've already adopted a sea turtle nest, stay tuned for information Outer Banks Forever will send you about your specific nest when it hatches.