36-year-old man dies in water-related incident in Nags Head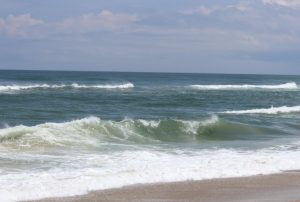 A 36-year-old man from Enfield, Connecticut has died after being pulled from the ocean in Nags Head on Wednesday evening.
Nags Head Fire and Ocean Rescue and Police Departments responded to a 911 call at approximately 5:50 p.m. on Wednesday, September 6, after receiving a report of a man in distress in the ocean about 50 yards north of the Nags Head Fishing Pier, in the 3300 block of South Virginia Dare Trail.
Arriving first on the scene, an Ocean Rescue guard quickly pulled the man from the water. The guard immediately began cardiopulmonary resuscitation, before Dare County Emergency Medical Services transported him to the Outer Banks Hospital, where he was pronounced dead.
This is the third water-related death in the past week, with the other two deaths occurring on Hatteras Island.
On Monday, September 4, a 28-year-old woman from Washington, D.C. died in a water-related incident in northern Avon village.
On Tuesday, September 5, a 68-year-old man from Hillsboro, Ohio died in a water-related incident off southern Hatteras Island, near off-road (ORV) ramp 55.
There has been a high risk of rip currents throughout the past week, due to lingering effects from Franklin and Idalia. While the risk of rip currents on Thursday, September 7, is low to moderate, an enhanced risk of rip currents is expected this weekend and for most of next week as well, due to Hurricane Lee.
A high risk of rip currents means that the surf zone is dangerous for all levels of swimmers, and beachgoers should stay out of the water. A moderate risk means that life-threatening rip currents are likely.
The public should check surf and swimming conditions before heading to the beach, and the daily beach forecast at www.weather.gov/beach/mhx includes rip current risk levels, and information about other hazards along the beach.
In addition, visitors are encouraged to sign up for text alerts from Dare County, ocean rescue agencies, and the National Weather Service by texting "OBXBeachConditions" to 77295.