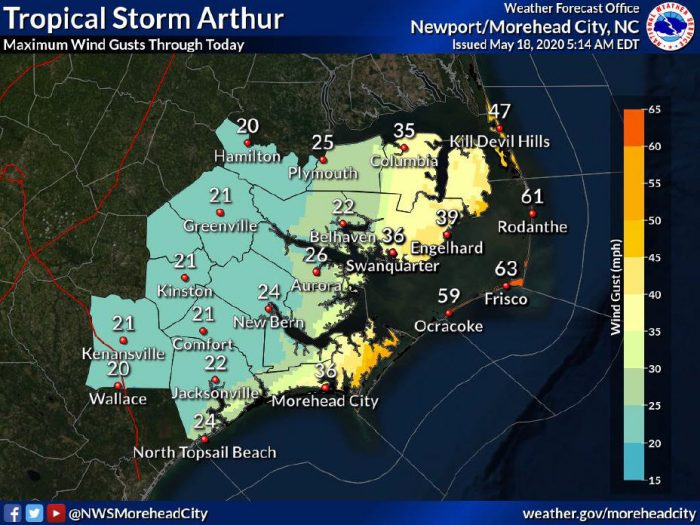 Tropical Storm Arthur will start to impact the Outer Banks on Monday morning, bringing additional rain, wind gusts of 60 mph or more, and the potential for coastal flooding, per a Monday morning update from the National Weather Service (NWS) Newport / Morehead City office.
As of 8 a.m. on Monday, Arthur was located about 50 miles south-southwest of Cape Hatteras and was moving north-northeast at 15 mph, with maximum sustained winds of 45 mph.
Heavy surf may lead to beach erosion and dune breaches, especially in vulnerable locations, which may impact N.C. Highway 12. Periods of moderate to heavy rainfall continue to be possible along the coast, with the potential for localized minor flooding.
Arthur should be moving away by late Monday afternoon, with a wind shift to the NW that could bring 1-2 feet of above ground inundation to soundside Hatteras and Ocracoke islands.
The soundside water levels are expected to rise the fastest on Monday afternoon and evening.
Dangerous rip currents are already being reported along the Outer Banks, and will continue over the next several days.  Ocean swimming is not recommended, and beachgoers are advised to stay out of the water.
Rip currents and dangerous surf will likely continue through the end of the week.
Tropical Storm Arthur now makes six consecutive years where an Atlantic tropical cyclone has developed before June. Most storms occur during the June 1 through November 30 Hurricane Season.
To sign up to receive alerts from Dare County Emergency Management go to www.darenc.com/departments/emergency-management/emergency-alerts.
Follow forecast changes from the National Hurricane Center at www.nhc.noaa.gov or local National Weather Service office at www.weather.gov/mhx.