Governor hints at hybrid plan for opening schools
At a press briefing today, Governor Roy Cooper said he will announce two critical decisions next week – how to re-open the state's public schools and whether to move the state into another phase of re-opening with the current Executive Order set to expire on July 17.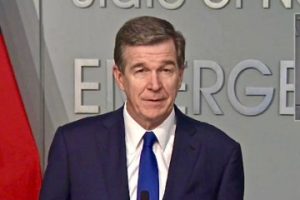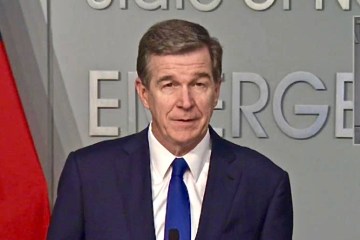 While not revealing his decision on school openings at the briefing, the governor did seem to offer a significant clue when, in response to a reporter's question, he said, "I believe that kind of getting back into school [safely] is going to require some in-person, but also some remote learning."
The July 9 briefing came against the backdrop of sobering news about the COVID-19 pandemic in North Carolina. The 2,039 new cases reported on July 9 represented the second highest daily total since the outbreak began and the 1,034 people hospitalized with the virus marks the highest number of daily hospitalizations to date.
"We're continuing to watch with concern as COVID cases and hospitalizations continue to increase," Cooper said.
The governor postponed a decision originally scheduled for July 1 on how to begin the next school year. The three options being discussed include one that features all in-person learning, a hybrid of some in-person and some remote learning, and a plan for only remote learning.
On July 7, perhaps anticipating that Cooper will ultimately opt for the hybrid plan, the Dare County Schools sent out a survey soliciting public input on three ways that such a plan could be implemented.
During the July 9 press briefing, the governor fielded several questions concerning the logistical challenges of in-person learning and acknowledged that the school decision "is a tough call. How to open schools is something every single state and every single governor is struggling with."
Regarding further re-opening the state, Cooper announced on June 24 that he was pausing that process and keeping North Carolina in its "Safer-at-Home" Phase Two until at least July 17. That decision meant that such businesses as bars and gyms remained closed. It was also accompanied by a requirement that citizens wear face coverings in public places where social distancing is not possible.
While it's unclear what, if anything, the governor will do to ease restrictions by July 17, he stated at the July 9 briefing that "our [COVID-19} trends are not where we them to be right now.
Today's coronavirus numbers – July 9
What's new today: Daily hospitalizations surpass the 1,000 mark.
Reported NC cases – 79,349 (up 2,039 from yesterday)
Reported NC deaths – 1,461
Currently hospitalized – 1,034
Patients presumed to be recovered – 55,318
NC county with most cases– Mecklenburg (13,757)
Reported cases in Dare, Currituck and Hyde Counties – 203 (Dare 156, Currituck 22, Hyde 25)
Completed tests – 1,121,811
% of cases by age group – 0-17 (11%), 18-24 (13%), 25-49 (45%), 50-64 (19%), 65+ (12%)
% of cases by gender – female (51%), male (49%)
Number of cases in NC congregate living facilities (nursing homes, residential care facilities, jails) – 8,320
Number of empty hospital beds out of all licensed hospital beds in NC – (3,967 out of 21,222)
Number of empty ICU hospital beds out of all licensed ICU beds in NC – (494 out of 3,223)
Number or ventilators currently in use out of all available ventilators at NC hospitals – (871 out of 3,269 total)
Note: Every morning, the NC Department of Health and Human Services posts updates the number of reported cases of coronavirus. That number reflects positive results from all tests, including the NC State Laboratory of Public Health and all hospital and commercial labs. There may be other reports, from the media and elsewhere, that will include different numbers during a given day, but this is an effective way of tracking numbers from the same source on a day-to-day basis.
SOURCE: NC DEPARTMENT OF HEALTH AND HUMAN SERVICES