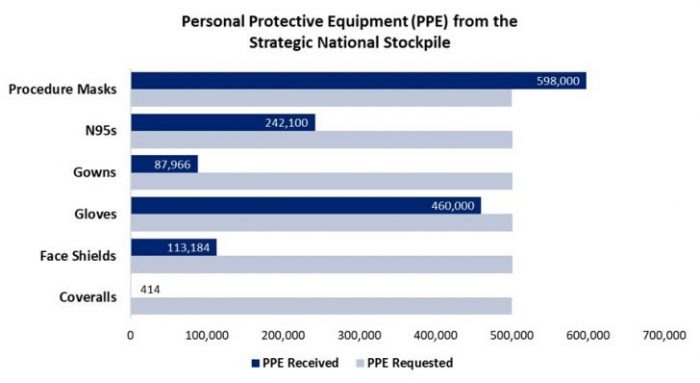 During remarks at his 2 p.m. briefing on Friday April 3, Governor Roy Cooper focused on the state's problems trying to obtain enough personal protection equipment for its frontline health care workers.
"This is a bad situation, folks," Cooper warned. "We've gotten just thirty-three percent of what we've asked for [from the Strategic National Stockpile] and they've told us not to [expect] any more soon." He added that state buyers are attempting to purchase this equipment from other sources, but an overall shortage has left many of those orders unfilled.
According to information from the North Carolina Department of Health and Human Services (DHHS) the state has requested 500,000 pieces of equipment from the National Strategic Stockpile in a variety of categories.  It actually received more procedure masks (598,000) than it requested, but it is facing a series of shortfalls elsewhere. It has thus far received 242,100 N95 masks; 87,966 gowns; 460,000 gloves; 113,184 face shields; and 414 coveralls.
To help make up the gap, Cooper said he is "encouraging manufacturing across the state to shift their production lines" to make some of these products. But he did not offer specifics.
Stressing the importance of slowing the spread of the virus to prevent a large wave of simultaneous cases from overwhelming state health care resources, the state's DHHS Secretary Mandy Cohen implored residents to stay at home and stay apart.
"I need to be honest," she said. "We've got to do a better job on this…" Later, when asked whether people venturing outside should wear some kind of mask over their face, she reiterated the ABC's of mitigating the spread of COVID-19.
"The tried and true things that work are washing your hands, washing down surfaces, and of course, keeping your distance," she asserted.