Dare Country urges residents to complete preparations now; Storm Surge Warning in effect north of Oregon Inlet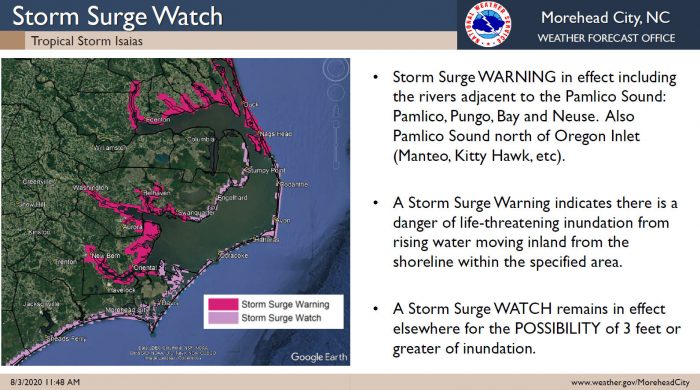 The following update was released by Dare County on Monday at noon, August 3
A Tropical Storm Warning and Storm Surge Warning are now in effect for Dare County until further notice. In addition, a Beach Hazards Statement has been issued and a High Surf Advisory will become effective early Tuesday morning. For updated information, including updated watches and warnings from the National Weather Service, visit www.weather.gov/mhx. Follow them on Twitter @NWSMoreheadCity.
The State of Emergency declaration remains in effect for Dare County and includes a mandatory evacuation order for Hatteras Island.
Tropical Storm Isaias will bring impacts to Dare County and now is the time to complete preparations. Ocean conditions will worsen and tornadoes remain a possibility. Storm surge inundation may reach 2 to 4 feet above normally dry ground. Secure outdoor items and move vehicles and property from flood prone areas especially in areas flooded by southerly winds and near vulnerable ocean dune structures on Hatteras Island. Soundside water levels can be monitored at https://fiman.nc.gov/. As conditions deteriorate overnight, it will be important to keep your cell phone charged and turned on with public safety alerts enabled.
Ocean conditions are extremely dangerous and will remain so over the next few days.  Everyone should stay out of the water, even experienced swimmers. For updated beach forecasts, visit weather.gov/beach/.
Dare County Offices north of Oregon Inlet are open today and Tuesday; however, offices on Hatteras Island are closed and will be closed tomorrow.
Due to high wind expectations, trash collection that would normally take place on Tuesday, August 4 in the following areas will now take place on Wednesday, August 5: the residential areas of Manteo (outside Town limits), Wanchese, Skyco, Manns Harbor, East Lake and Stumpy Point.
The trash collection schedule for Hatteras Island, which was modified over the weekend and collected earlier than usual, will resume regular operations for Thursday and Friday.
In addition to the modified trash collection schedule, the Manns Harbor Transfer Station, the C&D Landfill, and the Buxton Transfer Station will be closed on Tuesday, August 4.
Cape Hatteras National Seashore
All facilities at Cape Hatteras National Seashore are closed. To view the most up-to-date information and conditions for Cape Hatteras National Seashore, go to: https://www.nps.gov/caha/planyourvisit/operational-status-report.htm.
Wright Brothers National Memorial
Wright Brothers National Memorial is closed. The park will reopen after post-storm assessments are completed. To view the most up-to-date information and conditions for Wright Brothers National Memorial, go to: https://www.nps.gov/wrbr/planyourvisit/operational-status-report.htm.
The next update will be issued no later than 6:00 p.m. on Monday, August 3.