The following message was sent to parents and families of Dare County students from Dare County Schools Superintendent, John Farrelly. The letter in its entirety is printed below.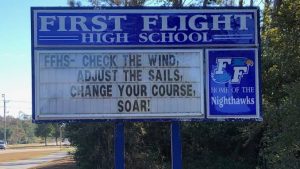 Dare County Families,
Good afternoon. Thank you for your patience and understanding as we work with local law enforcement in the investigation of the social media threat at First Flight High School. First Flight Schools will reopen tomorrow, Thursday, December 19.
This has been a trying time for all of us, beginning with the threat on Monday. Before I provide an update on today's situation, let me share a summary of what occurred this past Monday. While the Dare County Sheriff's Office directed all three First Flight Schools to go into lockdown at approximately 11:45 am as a precautionary measure, the investigation found that there was never a direct threat to the school. The results of Monday's investigation have resulted in legal action being pursued on a student who threatened another student. While there was never a direct threat to the school, that was not apparent given the initial evidence. I applaud the Dare County Sheriff's office for being proactive and for our shared commitment to keeping our schools safe at all times.
This morning, school leaders became aware of a social media post at approximately 6:30 am, indicating that there was a bomb at First Flight High School. Law enforcement officials and school leaders immediately arrived on campus to assess the situation. Specially trained dogs that can detect explosive devices were sent through all three First Flight campuses. While there have not been any threats made to the elementary or middle schools, we decided to also close those schools due to their proximity to the high school, and timing of the events.
This morning's search by law enforcement confirmed that there are no explosive devices on the campus of any of the three First Flight Schools. The social media posting was a hoax. Nonetheless, several law enforcement agencies, including federal agencies, are working together to determine who made the online threat. I'm confident that at the conclusion of this investigation, the suspect will be held accountable to the highest degree of the law. It is a felony in the state of North Carolina to make a threat of mass destruction on a school. These threats are never taken lightly.
Teachers and guidance staff at all three First Flight Schools are offering counseling services to students that have experienced anxiety or trauma from the events of this week. We are working with students on a case by case basis to provide support on coping with situations such as these. We also realize the importance of maintaining stability and a consistent routine in our buildings and classrooms, despite an abnormal series of events.
Our principals have taken or will take several steps to communicate with both the student body and staff, particularly at First Flight High School:
On Tuesday morning, Principal Lansing addressed the entire student body at First Flight High School through the morning news broadcast. In this broadcast, he addressed the lockdown on Monday, reiterated that students were safe at all times, and the lockdown was used only as a precautionary measure. He also invited students to come forward with any questions or seek out teachers or guidance staff if they were upset. These morning broadcast shows are available to parents as well as students. Feel free to watch the video I referenced above by clicking here.
Additionally, Principal Lansing scheduled an interview with student journalists from Nighthawk News. The students are going to publish a story on the lockdown and today's bomb threat. This will provide another opportunity for conversation between the student body.
Teachers and administrators at the other two First Flight Schools have also been speaking with students about Monday's lockdown, communicating a similar message in conjunction with the high school. It gets tricky with messaging depending upon the developmental level of students. We must use discretion, especially at the elementary and middle school level, to maintain a needed sensibility with younger children.
Following the lockdown, Principal Lansing emailed all staff at First Flight High School and called a staff meeting to debrief any questions and take feedback from the staff.
Principal Childress is preparing a reassuring message for students that will be run tomorrow morning during announcements.
Our leadership team is working with elementary Principal Mitchum on talking points for teachers if needed, but we do not intend to communicate with the entire elementary school student body. We recognize the delicacy of these types of conversations with young children. Our staff will use sound judgment and engage in appropriate discussions with individual students as necessary.
In addition to the steps I have summarized above, I will be inviting all parents and community members to participate in an open school safety forum once we return from the holiday break. The purpose of this forum will be to engage in an open conversation with all of our stakeholders on the issue of school safety and address any questions that you might have.
I regret that situations like these occur. However, I am incredibly thankful for the support of our local law enforcement agencies and a dedicated group of school administrators that react vigilantly to ensure that our schools remain the safest campuses in North Carolina, and arguably the nation.
My best,
John