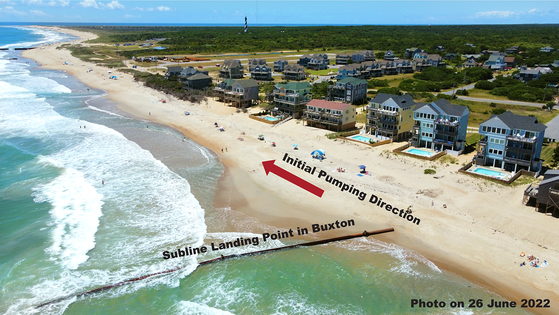 Great Lakes Dredge & Dock Co. has announced that, due to the development of Tropical Storm Colin in the early morning hours of Saturday, July 2, 2022, the dredge Ellis Island will suspend dredging operations in Buxton and head to port in Norfolk, Virginia, after pumping its last load of sand today.
The dredge—which has been performing beach nourishment operations in Buxton since the afternoon of Thursday, June 30, 2022—will return to Buxton to continue beach nourishment along the shoreline once Tropical Storm Colin has passed.
Click here to view the Buxton project map, which shows the section of shoreline where beach nourishment is currently underway, as well as areas that are closed for the staging of construction equipment.
For more detailed information about the Buxton beach nourishment project, please click here.