Enhanced risk of rip currents expected next week due to Hurricane Lee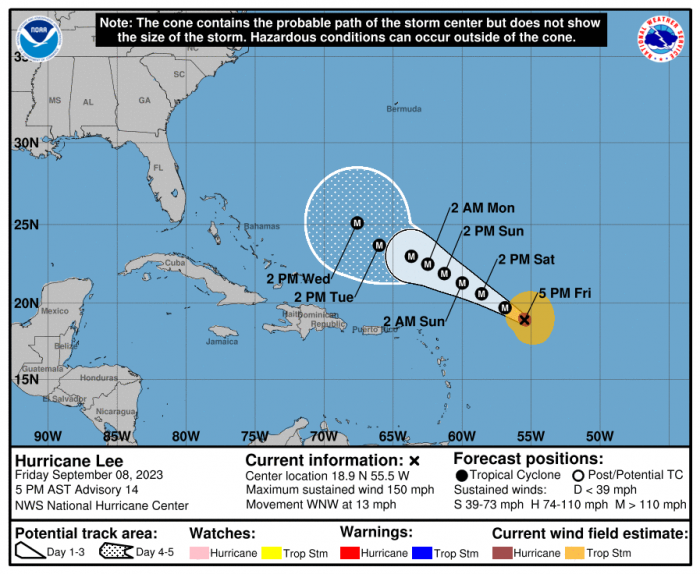 An enhanced risk of rip currents and potential coastal issues are expected starting on Sunday, September 10, due to distant Hurricane Lee, per an update from the National Weather Service Newport/Morehead City office.
While it is still too early to determine what direct impacts may or may not occur with Hurricane Lee, a high risk of rip currents is expected for most of next week, regardless of what happens with the eventual storm track. (A high risk means that the surf zone is dangerous for all levels of swimmers, and beachgoers should stay out of the water.)
Potential coastal impacts from the long-period swell are expected to peak on Tuesday, September 12, and continue through the end of next week.
There have been three recent water-related deaths on the Outer Banks, on three consecutive days, and during a period of elevated rip current risks.
On Monday, September 4, a 28-year-old woman from Washington, D.C. died in a water-related incident in northern Avon village. On Tuesday, September 5, a 68-year-old man from Hillsboro, Ohio died in off southern Hatteras Island, near off-road (ORV) ramp 55. And on Wednesday, September 6, a 36-year-old man from Enfield, Connecticut died in the ocean waters north of the Nags Head Fishing Pier.
The public should check surf and swimming conditions before heading to the beach, and the daily beach forecast at www.weather.gov/beach/mhx includes rip current risk levels, and information about other hazards along the beach.
In addition, visitors are encouraged to sign up for text alerts from Dare County, ocean rescue agencies, and the National Weather Service by texting "OBXBeachConditions" to 77295.
Remember that the forecast for Hurricane Lee will continue to be refined in the coming days, and the public can check for updates on the NWS Newport/Morehead office's website at weather.gov/mhx/tropical.