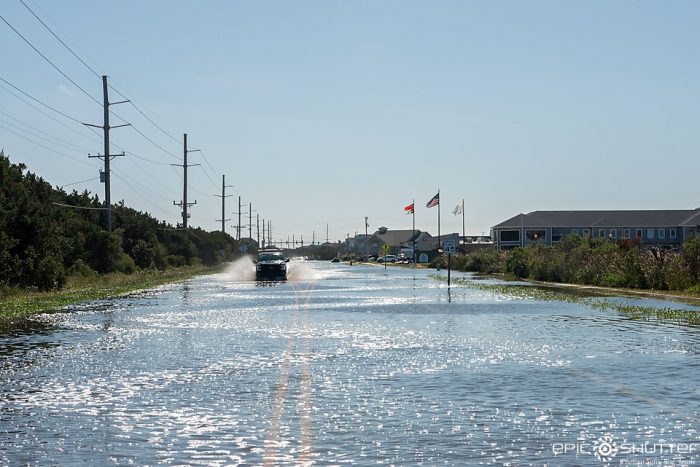 The highest water levels along the oceanside are expected to occur several hours before and several hours after this evening's high tide, which is around 7:00 to 7:30 p.m., per a Friday afternoon update from the National Weather Service Newport / Morehead City office.
Flooding will once again occur in the same areas as the past high tide cycles, but the overwash will be worse, and flooding may occur in several new locations as well.
During and after Friday morning's high tide, oceanside flooding was reported in northern Hatteras village, north Buxton, central Avon near Ocean View Drive, north Rodanthe near Mirlo Beach, and Pea Island.
Travelers are advised to avoid driving through flooded areas, as the road may be washed out, or the energy from the waves could potentially sweep vehicles from the road.
N.C. Highway 12 remained closed north of Rodanthe as of 4:00 p.m., but NCDOT crews are working as hard as they can to reopen the road for a brief window before the next high tide at about 7:30 p.m.
Conditions are expected to improve beginning Saturday, although ocean overwash is a concern for the next several days. Strong NNW winds of 15-25 mph with gusts of 30-35 mph are forecast for Friday, and winds will diminish by Saturday.
On Friday afternoon, the nor'easter affecting the coastline this week became Subtropical Storm Melissa, although gradual weakening is expected over the next couple of days, and Melissa is forecast to lose its subtropical characteristics by Saturday night. As of noon on Friday, Melissa was located about 190 miles south of Nantucket, Massachusetts, with maximum sustained winds of 65 mph.
Stay tuned to NCDOT NC 12 and Dare County Sheriff's Office for updates on road conditions as well as openings and closures.
For more information on the local forecast, visit www.weather.gov/mhx for weather information, or the National Weather Service office in Newport / Morehead City's Facebook page at https://www.facebook.com/NWSMoreheadCity/.