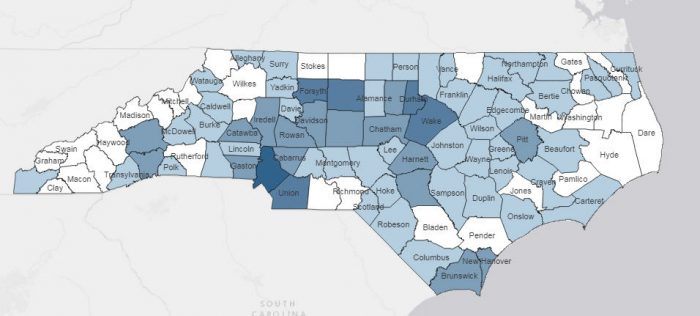 The statewide COVID-19 case count reached 1,040 as of early Sunday morning, with 18,945 tests completed across the state and counting. 91 individuals are currently hospitalized in N.C., and there have been four COVID-related deaths in North Carolina.
Dare County has had one individual test positive for COVID-19. The Dare County Department of Health and Human Services will continue to report any positive cases as soon as possible.
Currituck County reportedly had its first positive test result for COVID-19 per the North Carolina Department of Health and Human Services by Sunday morning, however, Albemarle Regional Health Services has not yet released additional information on the case.
SUNDAY UPDATE FROM DARE COUNTY:
The Dare County "Stay Home – Stay Healthy" order became effective, yesterday, Saturday, March 28 at 5:00 p.m. This order aligns with North Carolina's Stay at Home Executive Order.
While the weather is beautiful and the therapeutic value of getting outside and enjoying the sunlight and fresh air is immeasurable, we ask everyone to respect the order that is in place and limit your travel. We cannot stress enough that maintaining social distancing is one of the most effective tools we have to reduce the spread of COVID-19. For the safety of you, your family and our community, don't make exceptions to this order of social distancing. Maintain at least six feet of separation from others (non-family members).
To view the frequently asked questions regarding the stay at home order that is in effect, click here. To reach the State's COVID-19 information line, call 888-892-1162 or receive updates by texting COVIDNC to 898211.
The Dare County COVID-19 Call Center is open daily from 8:30 a.m. to 5:00 p.m. and can be reached at 252.475.5008. Staff members are available to help address your questions.
For updated information regarding Dare County services and department operations, visit www.darenc.com/covidservices. A list of community resources is available for those impacted by COVID-19 at darenc.com/covidresources.
National Park Service
To minimize potential spread of COVID-19, consistent with federal, state, and local advisories, visitor centers at Cape Hatteras National Seashore (Seashore), Fort Raleigh National Historic Site, and Wright Brothers National Memorial are temporarily closed.
Park lands continue to be open for the purposes of activities described under Dare County's "Stay Home – Stay Healthy" declaration. Visit http://go.nps.gov/beachaccess for the current status of Seashore beaches. Off-road vehicle permits can be purchased at www.recreation.gov. Seashore campgrounds are closed.
The next bulletin will be issued no later than 1 p.m. on Monday, March 30.