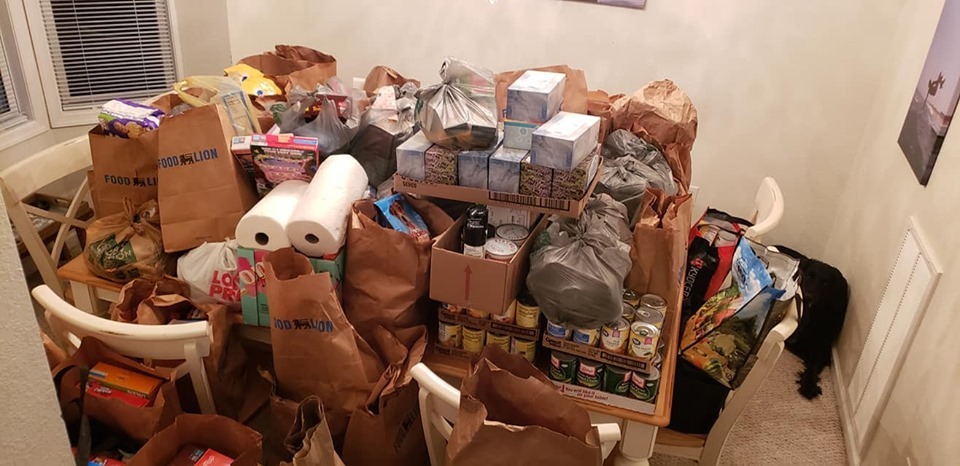 Nags Head local Connie Leech has landed an impromptu position in the weeks since Dorian made landfall – She's an Outer Banks-wide delivery woman.
Since seeing the devastation that Dorian caused to southern Hatteras Island firsthand, she has been tirelessly at work orchestrating the collection and distribution of much-needed supplies to southern Hatteras Island, via a network of friends, social media contacts and strangers, and her efforts are growing as the donations roll in.
Thanks to a local partnership with Nags Head Self Storage, which has generously agreed to donate a storage unit for the next three months, her sights are set on bigger items that can help islanders as they move from the post-storm cleaning phase, to the rebuilding phase.
"[Community members have] said that the clean-up process is ending, but now we need to rebuild," she says. "Appliances like dishwashers, washers, dryers, and gently used or new furnishings are greatly needed, so that's what we're working on next."
It's a big undertaking to be sure, but Leech has already tackled her new role as a donation deliverer with enthusiasm, and with huge results.
In the past several weeks alone, Leech has delivered two vans full of supplies to the Frisco Free Market, based on updated lists of imminent needs in the community. These large donations have come from folks in Nags Head and the northern beaches, but they have also come from out-of-state friends and visitors, and complete strangers who just happened to hear about the initiative on social media.
"The generosity has been amazing. It's truly humbling," she says. "There's a strong desire here [in Nags Head] to make things just a little easier for people [on the southern Outer Banks], and to help them get back to normal. People are very passionate about it around here, and I just love that."
Her efforts began with a drive down to neighboring Hatteras Island with her son, who runs a surf photography business, not long after Dorian hit the Outer Banks.
"When we pulled into Frisco, my heart just stopped," she says. It took a second for my brain to wrap around the fact that what I was seeing is people's belongings on the side of road. I had taken along 15 gallons of water, and I stopped by the [Frisco] Fire Station to see if they needed it."
Organizers at the Frisco Market expressed gratitude for the donation, and when asked, emphatically confirmed that more supplies were needed. "They said that people had been out of work, they were running out of food and water, and they needed cleaning
and other supplies badly," says Leech. "That's when this all got started."
Social media helped Leech launch her collection efforts in a big way. Through friends, friend-of-friends, and area businesses and organizations, Leech started an operation where she collected all sorts of supplies and monetary donations to shuttle down to Hatteras Island.
"There were friends from out of state who wanted to help, visitors and friends I know here, and people sent money as well – more than S650," she says. "I went out shopping [with those funds] and bought what was on the needs list. People have been incredibly generous from the get go – They see there's a need, and are on it, and that's amazing."
After bringing a couple truckloads of donations from the northern Outer Banks, and learning that larger items were needed and were about to be donated in response, it became clear that the operation inherently had to grow.
Working with Cape Hatteras United Methodist Men, it was determined that a good route for larger donations would be to secure a storage unit and orchestrate deliveries from there. "We ended up working with the generous [staff] at Nags Head Self Storage, and here we are."
And the big ticket items are already starting to roll in. Since initiating a Facebook post on Monday, Leech reports that she has already collected a stove with another on the way, a whole condo of gently used furniture, and two twin beds in beautiful condition.
And her delivery work is most certainly about to heat up.
"The larger donations – like appliances, dishwashers, driers, furniture – that's what we're trying to get rolling here," she says. "I tell everyone 'We can help you haul it, we can haul it for you, or we can meet you at the Nags Head Storage Unit."
And that offer applies to the public at large.
"I'll always take more – dishwashers, and washers and dryers are especially needed right now. But I can work with anyone who wants to help."
Folks who want some help delivering large supplies to Hatteras Island can contact Connie Leech at tcemleech@aol.com to make arrangements as needed. Donations can also be brought to the Nags Head Self Storage where a large unit is waiting.
In the meantime, like so many Outer Banks residents affected by Hurricane Dorian, Leech is counting her blessings while looking south, and helping –continuously – in any way she can.
"We realize around here that 'this so easily could be me. It could have been my home, and my family,' so here we are doing what we can," she says. At least we have a way to help. And if I can help these people, I will. They've been through so much."
And when it comes to her newfound role as an instrumental Outer Banks donation shuttle, Leech attests that it wouldn't be possible without the generosity of others – both up the beach in Nags Head, and miles beyond.
"I'm just a delivery person," she says. "It's the people who are responding, and who are being so generous, that are making a difference."
HOW TO DONATE IN THE NORTHERN OUTER BANKS
Folks who are interested in contributing large donations can email Connie Leech at tcemleech@aol.com or connect with her on Facebook. Donations can be picked up, and / or other transportation arrangements can be made as needed.
Large appliances are especially needed, which includes working and gently used appliances, gently used or new furnishings, and new / clean blankets and comforters.
A storage unit at Nags Head Self Storage will be available for the next three months for large donations. Contact tcemleech@aol.com for more information.