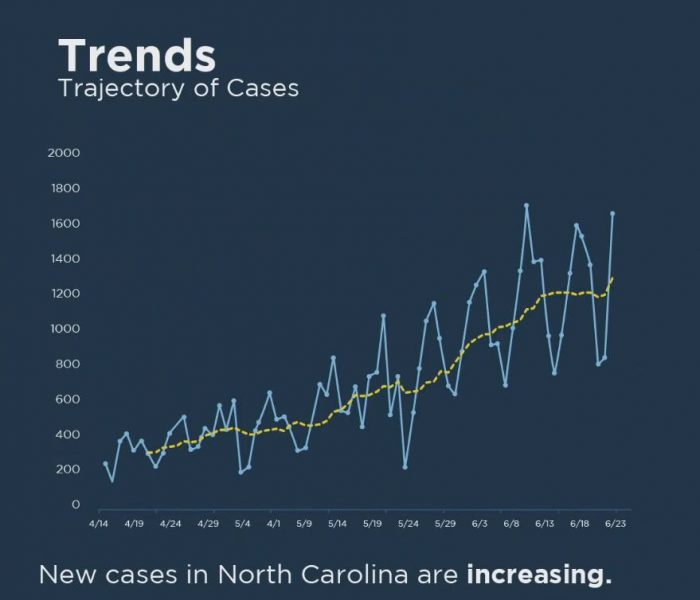 Gov. Cooper announced at a press conference on Wednesday afternoon that North Carolina would remain in Phase 2 of the gradual lifting of COVID-19 restrictions for the next three weeks, and that face coverings would be required statewide in indoor and outdoor areas where maintaining a distance of more than 6 feet is difficult.
The decision for both the face coverings requirement as well as the extension of Phase 2 is due to a rising number of COVID-19 cases in the state, an increase in the percentage of positive test results, an increase in hospitalizations, and concern about the availability of testing supplies in the near future.
"The daily case counts have gone up, and the percent of positive cases have gone up," said Cooper. It was also noted that the number of people who have been hospitalized has increased by 56% in the past month.
"Since the beginning of this pandemic, I've been clear that data and science will lead the way," said Cooper, adding that Wednesday's new case count of 1,721 cases was one of the highest since the pandemic started. "This indicates that the virus is very prevalent in our state. This is not where we planned to be, or wanted to be, but [these two decisions] are needed to [combat] this disease… the next couple of weeks are critical."
In addition, certain businesses must have employees and customers wear face coverings, including retail businesses, restaurants, personal care and grooming providers, employees of child care centers and camps, workers and riders of transportation, and workers in construction/trades, manufacturing, agriculture, meat processing and healthcare and long-term care settings.
"Wearing a face covering is an easy thing to do that can make a huge impact for all of us. A major spike in cases would be catastrophic to the system, and without your cooperation, nurses and our fellow healthcare providers will have a harder time caring for sick patients for weeks and months to come," said Dennis Taylor, President of the North Carolina Nurses Association, at the Wednesday announcement.
"As the leader of the state's largest health system, I am pro-health and also 100 percent pro-business. In fact, the two are inextricably connected and I'm very proud of the way business leaders and health experts are working together to keep our economy strong," said Eugene A. Woods, President and CEO of Atrium Health. "Medical science says to reduce the spread of COVID-19, masking works, and my sincere hope is that all the people of North Carolina can join forces to make wearing a mask not something we feel we have to do – but something that we want to do to keep each other, our neighbors, our children and our loved ones healthy and safe."
Dare County issued a similar mandate on Friday, June 19, that face coverings or masks must be worn in indoor and outdoor public spaces where social distancing cannot be maintained.
What's included in Phase 2, which will continue until July 17:
Mass gathering limits in Phase 2 will be no more than 10 people indoors or 25 people outdoors in most circumstances. These limits apply to the following: event venues; conference centers; stadiums and sports arenas; amphitheaters; and groups at parks or beaches.
Some businesses will remain closed in Phase 2 including: bars; night clubs; gyms and indoor fitness facilities; indoor entertainment venues such as movie theaters, and bowling alleys.
Certain businesses will be open at limited capacity with other requirements and recommendations including: restaurants at 50% dine-in capacity with distancing and cleaning requirements; personal care businesses, including salons and barbers, at 50% capacity with distancing and cleaning requirements; pools at 50% capacity with distancing and cleaning requirements. Employees of personal care businesses will be required to wear face coverings.
Childcare facilities, day camps and overnight camps will be open with enhanced cleaning and screening requirements. Retail businesses allowed to open in Phase 1 at 50% capacity will continue at that level.
Public health recommendations are provided for worship services to practice enhanced social distancing and other cleaning and hygiene practices.
Read NC DHHS guidance for various sectors.