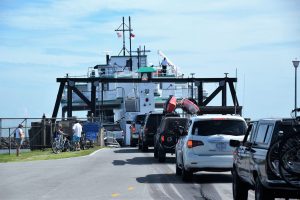 The N.C. Department of Transportation's Ferry Division has canceled several trips scheduled for the Pamlico Sound routes between Cedar Island, Swan Quarter, and Ocracoke on Wednesday, June 23, due to shoaling issues in the ferry channel.
The following trips are canceled for Wednesday on the Ocracoke-to-mainland ferry routes:
11:00 a.m. Ocracoke to Swan Quarter
5:30 p.m. Ocracoke to Cedar Island
2:00 p.m. Swan Quarter to Ocracoke
A complete ferry schedule for all seven North Carolina routes is available online on the NCDOT's Ferry Division website.
On the bright side, the Ocracoke Express passenger ferry returned for the summer season on Monday, June 21.
The Ocracoke Express passenger ferry departs from the Hatteras village ferry terminal at 9:30 a.m., 1 p.m. and 4:30 p.m., and departures from the Ocracoke Silver Lake Terminal are scheduled for 11 a.m., 3 p.m. and 8 p.m.
Visitors can book reservations for the passenger ferry, or for the Ocracoke-mainland routes online or by calling 1-800-BY-FERRY.