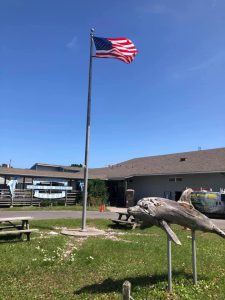 Per a recent update from Hyde County Public Schools, Ocracoke students will be officially returning to school on Wednesday after a nearly month-long hiatus due to Hurricane Dorian.
The week's schedule will start with an Open House on Tuesday, so that teachers, parents, and students can reconnect, and staff can answer any questions that arise.
"If we have learned anything from the challenges we all have faced since Dorian, it's flexibility and patience. We are so close!" stated Hyde County Public Schools in a social media statement. "We have divided the day up by grade levels which will allow Principal Leslie Cole to be at each Open House to 'Meet and Greet' all of her students and parents, and address any questions or concerns [parents] may have."
The Open House times, divided by grade level and location, are as follows:
Tuesday, October 1, 2019
11:00 a.m. – 12:00 p.m. Tuesday
Students and Parents of Grades Pre-Kindergarten, Kindergarten, and 1st Grades
At the Daycare/Ocracoke Child Care Building
12:00 p.m. – 1:00 p.m. Tuesday
Students and Parents of 2nd Grade, 3rd Grade, 4th Grade, and 5th Grade
Second Floor of the Elementary Building (Park and Enter from Back Road only, please. The front is closed off due to the reconstruction in "The Commons.")
1:00 p.m. – 2:00 p.m. Tuesday
Students and Parents of 6th Grade, 7th Grade, and 8th Grade
Second Floor of the NCCAT Building
2:00 p.m. – 3:00 p.m. Tuesday
Students and Parents of 9th Grade, 10th Grade, 11th Grade, and 12th Grade in NCCAT Building
The first official day back to school will be Wednesday, October 2, beginning at 7:55 a.m.
Per the Ocracoke Observer, as it stands, Pre-K to first grade will relocate to Ocracoke Child Care on Old Beach Road. Second through grades five will be on the second floor of the elementary building, which has been cleared after air quality and mold testing. The remaining grades will be at the North Carolina Center for the Advancement of Teaching building (NCCAT) adjacent to the ferry docks in the village.
Teachers returned to school on Wednesday, September 25, and have been working tirelessly to put together each of their three offsite locations in preparation for returning students. Internet access has been established at all three locations, and classroom setups have been created as well, while renovations continue at the main Ocracoke School.
For more information, visit https://www.facebook.com/HydeCountySchools/