Pellini and Cruden vie in Republican primary for District Attorney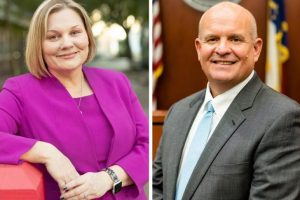 Two assistant district attorneys are competing in the Republican primary to succeed their boss, District 1 District Attorney Andrew Womble, who is running for Superior Court Judge. The race pitting Jeff Cruden against Kim Pellini also features two Navy veterans.
Cruden, who served for seven years in the Navy and has spent 28 years as a prosecutor, attended law school at Campbell University. He is husband, father and grandfather and a partner at the Nags Head Church and resides in Kill Devil Hills.
A North Carolina native and resident of Moyock, Pellini served in the Navy where she met her husband. She attended the Regent University School of Law and has spent 15 years as assistant district attorney in District 1. She has two children.
In order to help voters better assess their choices, the Voice emailed a set of questions to local candidates that are facing primary contests that will be decided on May 17. The candidates in this race responded and those responses are included below. (Some answers may be edited for length.)
The Voice asked the two candidates if there are particular areas of criminal activity that they see as a focus of their interest and work as district attorney.
Kim Pellini: "As District Attorney, I will prioritize the prosecution of violent crime."
Jeff Cruden: "Violent crimes will always be a point of emphasis with my office. Society as a whole has become more violent in recent years, and my goal is to curtail that in the 1st District as much as possible. In addition, drugs continue to be a cancer that is eating away at our communities. I take great pride in obtaining the first murder conviction in our district for someone that sold drugs that led to a death."
The candidates were asked to identify an aspect of the criminal justice system they would like to change or improve.
Jeff Cruden: "One of the improvements that I brought to the 1st District was to re-vamp how our Dare criminal admin court was run. Now it runs more efficiently, citizen's time is not wasted, and thousands of taxpayer dollars are saved…A hot topic now is transparency. Unfortunately, with the rules that govern our conduct, there is very little that we can share with the public prior to the disposition of cases. This is, however, the people's courthouse, and I plan to implement a system in which, after every session of Superior Court, we publish the number and types of cases disposed, so the people know what we are doing in their courthouse."
Kim Pellini: "Through my work, I often encounter mentally ill individuals who are in need of treatment.  The process for having these individuals evaluated for mental illness is slow and tedious. This is due in large part because we lack appropriate treatment facilities. I would like to see our state begin to prioritize mental health and create more inpatient treatment facilities."
The candidates were also asked to identify the principal difference between themselves and their opponent.
Kim Pellini: "While I cannot control the number of years that I have been practicing law, I can control the amount of effort and energy that I pour into my cases. I give it my all. As a result, I consistently try more cases to a jury than anyone in the office. In addition, I am the only North Carolina Board Certified Criminal Law Specialist in the District Attorney's Office.
"I also have leadership experience. I am a supervisor. In 2013, I was promoted to the position of Chief Assistant District Attorney. In this role, I supervise and assist the other Assistant District Attorneys. While my opponent emphasizes his supervision of one county [Dare], I am the one that assists and supervises staff in the other 6 counties. Finally, I am the only lifelong member of the Republican party in this race."
Jeff Cruden: "My opponent is a good prosecutor, but I have 13 more years of experience. The three main characteristics I have found over the years that makes an effective District Attorney are (1) trial experience, (2) management experience and (3) the ability to teach and lead the younger prosecutors. I have been a prosecutor for 28 years…I was awarded Prosecutor of the Year in the State of North Carolina. I have tried five Capital murder cases to a jury as lead prosecutor…I was the lead prosecutor in a Special Victims Unit that prosecuted rapes and sexual assaults. I was the member of a Dangerous Offender's Task Force that targeted violent, repeat offenders and tried them within 90 days of being charged, with no plea bargains."
"I was the supervisor of the District Court prosecutors in the Wake County DA's office, which typically had 25 prosecutors. The total Assistant DA's we have in the 1st District is 12. For the last 7 years, I have managed the Dare office…I have been a member of the Training Committee for the NC Conference of District Attorneys for the last 20 years. I have been responsible for helping to implement training programs and lesson plans for Assistant District Attorneys. I have taught courses across the state on everything from how to prosecute a District Court calendar to how to try a Capital murder case."
The candidates were asked to share something about themselves that voters probably don't know, but should know.
Jeff Cruden: "First and foremost, I am a Christian, and my Christian faith has made me the man I am today. I continuously tell the ADA's that I mentor to always strive 'To do the right thing, for the right reasons, every time.'  It is impossible to make everyone happy, but as long as you always follow that rule, you will know that you have done the best that you could under the circumstances. Lastly, I am a husband, father and grandpa. My family and I love this place that we call home. I don't know which funeral home my wife will use, but whichever one she picks will be my next moving company."
Kim Pellini: "This is not just a job for me, this is my passion. I want nothing more than to see justice done. This translates into me being a certified workaholic. I bring work home at night, on the weekends, and even on medical leave. For example, in December, I had surgery and I was on medical leave for six weeks. I still worked. I just did it from home. I came in several times a week to pick up files to review, and to drop off indictments. While on medical leave, I came into work to attend a child sexual assault trial. The victims asked for me. They wanted me to sit with them in court, so that is exactly what I did. "