Rocket should be visible from N.C. coast after Friday afternoon launch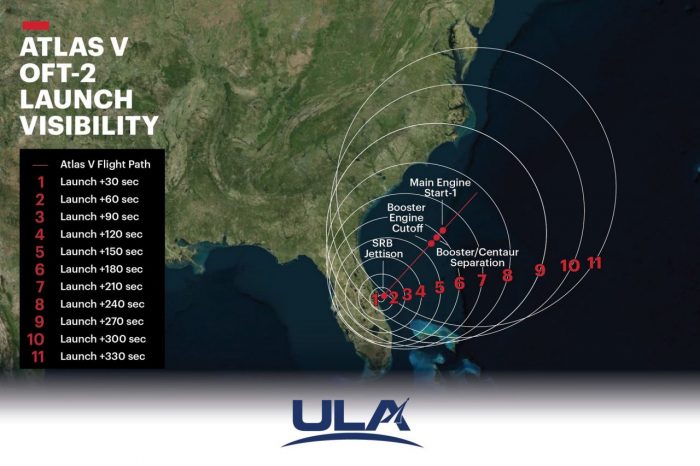 Friday Update: The launch of the ULA OFT-2 mission for NASA and Boeing has been delayed. The combined NASA, Boeing and ULA teams are working to determine the next launch attempt. Officials said the earliest available launch opportunity is 1:20 p.m. Tuesday, Aug. 3.
• Rocket: Atlas V N22
• Mission: Boeing's CST-100 Starliner, Orbital Flight Test-2
• Launch Date and Time: TBD 
• Launch Location: Space Launch Complex-41, Cape Canaveral Space Force Station, Florida
The rocket launching an uncrewed spacecraft at 2:53 p.m. Friday from Cape Canaveral Space Force Station in Florida should be visible from the North Carolina coast within seconds of its launch time.
The space launch provider, United Launch Alliance, or ULA, provided a visibility map showing best times along the eastern seaboard to spot the rocket. Based on the map, visibility in North Carolina will be about 240 seconds, or 4 minutes, from launch.
Shining a light on two of our most dedicated supporters: Thank you to John and Nancy and all our CRO Press Club members for their support that makes our reporting possible.
The ULA Atlas V rocket was readied at Cape Canaveral's Space Launch Complex-41 Thursday for Friday's launch of Boeing's CST-100 Starliner on the Orbital Flight Test-2 in support of NASA's Commercial Crew Program.
NASA will provide coverage of the prelaunch, launch, and docking activities for the agency's Boeing OFT-2 mission to the International Space Station. Starliner is expected to arrive at the space station for docking about 24 hours after launch with more than 400 pounds of NASA cargo and crew supplies.
Coverage of the Boeing Starliner OFT-2 Mission to the International Space Station will begin at 2 p.m. and a post-launch news conference is scheduled for 4 p.m., but that time could change.
This is the second uncrewed launch of Boeing's Starliner. Rosie the Rocketeer, Boeing's anthropometric test device, will be commanding the ship.
The mission will test the end-to-end capabilities of Starliner from launch to docking, atmospheric re-entry, and a desert landing in the western United States. OFT-2 will provide valuable data that will help NASA certify Boeing's crew transportation system to carry astronauts to and from the space station.
Starliner also will test its vision-based navigation system to autonomously dock with the space station. Docking is scheduled for 3:06 p.m. Saturday, about 24 hours after launch.
After a successful docking, Starliner will spend five to 10 days aboard the orbiting laboratory before returning to Earth in the western United States. The spacecraft will return with more than 550 pounds of cargo, including reusable Nitrogen Oxygen Recharge System tanks that provide breathable air to station crew members.
As long as Starliner's second uncrewed mission meets all necessary objectives, NASA and Boeing will look for opportunities toward the end of this year to fly Starliner's first crewed mission to the space station, the Crew Flight Test, with NASA astronauts Barry "Butch" Wilmore, Nicole Mann, and Mike Fincke on board, according to NASA.