Recent data from the Dare County Department of Health and Human Services (DHHS) shows that among the county's various communities, Stumpy Point has the lowest COVID vaccination rate — at only 20%.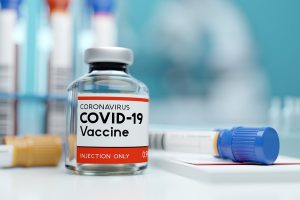 As part of its ongoing vaccination outreach effort, the DHHS has enlisted well-connected Stumpy Point resident Sandy Semans Ross to reach out to her neighbors about getting the vaccine. In an interview this week, Ross, who has also tried to reach people on social media, told the Voice that an email she sent out hadn't generated any interest.
This helps highlight the challenges local health departments face as they increasingly turn to person-to-person and grassroots efforts to get more residents vaccinated as the demand for the shots has clearly flattened. According to the North Carolina Department of Health and Human Services, 47% of Dare County's population has been fully vaccinated. And there are currently no individuals on the county's wait list for a shot.
At a time when worrisome COVID variants are circulating and the nation is still far from herd immunity, the crucial task of getting people vaccinating may be running into some stiff vaccine hesitancy. Of the 36% of respondents who hadn't been vaccinated in an AP NORC survey released this month, a majority (22%) said they will probably not or definitely not get a shot.
Interviews with local health department officials indicate that their efforts to reach the non-vaccinated are increasingly reliant on strategies such as door-to-door visits to businesses and churches, social media marketing and engaging community stakeholders to mobilize interest in their neighborhoods.
That's also a theme at the state level, with the North Carolina Department of Health and Human Services announcing a "Bringing Summer Back" get-out-the-vaccine campaign to engage community organizations in an effort to fully vaccinate as many people as possible by summer. Organizations are asked during two weeks in May and again during June to encourage members to volunteer with door-to-door and phone bank outreach, distribute resources or host a get-out-the-vaccine event.
As an incentive, Governor Roy Cooper has said that if the state can meet its goal of getting 65% of the adult population vaccinated, the indoor mask mandate could be lifted.
In Dare County, DHHS Director Sheila Davies said that a community health worker on contract from the state has been working for several months to assist the department with vaccine outreach.
"She's really been working hard on outreach to the historically marginalized populations," Davies noted. "We've also connected her with some key stakeholders – to Betty Selby [Manteo Mayor Pro Tem] and individuals with some of the churches who have a larger Hispanic population. She's done a great job in helping get education to those individuals and offering encouragement to get to the vaccine clinics."
Currently, DHHS is offering vaccine appointments three days a week – Mondays at its Manteo office, Wednesdays at its Frisco office and Fridays at its Nags Head office.
Davies' department is also working with community stakeholders in areas of the county where vaccination percentages lag – such as Ross in Stumpy Point and Mary Helen Goodloe-Murphy in areas of Hatteras Island.
Davies said the department will continue to update its social media page with COVID-19 vaccinations and provide weekly updates, but "what people may not know in addition to all of that…is there are the kind of the grassroots door-to-door efforts that are going on [with community members] who we think people trust their opinion."
For her part, Goodloe-Murphy said that, "My theory is that what we need to do is to move the vaccination process into the communities in some kind of easy way, or with local sponsorship, and that's the thrust behind the Bringing Summer Back [campaign], which is the promotion program that the state's doing right now."
Goodloe-Murphy cited a recent success story. Beach Pharmacy in Hatteras held a recent Johnson & Johnson vaccine clinic with 300 doses and was able to inoculate 297 individuals.
In addition, on May 11, DHHS announced that it was accepting registration for Pfizer vaccination appointments for 12- to 15-year-olds in anticipation of the CDC recommendation, which came on May 12. Appointments are currently being scheduled for a May 21 Pfizer clinic at the Kill Devil Hills Youth Center for this age group.
If you are interested in registering your adolescent aged 12 or older for the Pfizer vaccine please visit the Dare County website at www.darenc.com/covid19. Parental permission is required and a legal guardian must accompany any minor youth to the vaccine appointment. Appointments can be scheduled with Dare County DHHS online at www.darenc.com/covidvaccine or by calling the COVID call center at 252-475-5008.
The DHHS also plans to connect with the schools to help send information directly to parents about the opportunity to vaccinate their children. Davies said the DHHS is working with the state to see if there are any incentives it could offer the teens to get vaccinated — suggesting the possibility of something like a small gift certificate.
"I think it might be a little more intimidating for this age group to come in, so anything we can do to maybe take some of that away by providing some kind of incentive," she added.
According to Hyde County Emergency Preparedness Coordinator Misty Gibbs said the county's health department is "trying as hard as we can [with outreach] because we want to make sure everyone is safe."
In regard to the 12- to 15-year-old age group, Gibbs said Hyde County currently is not able to offer the approved Pfizer vaccine because it doesn't have the capability to store it. But as far as the Moderna and Johnson & Johnson vaccine, she said the department is utilizing a number of outreach campaigns to encourage people to get vaccinated.
Those efforts, she said, include calling all of the county's agricultural operations and seafood processing facilities; conducting mailings to key groups; notifications to citizens about upcoming clinics; engaging community partners to advocate in their communities as well as giving shots on location to any organization, business or church that has at least 20 registered participants.
As for Albemarle Regional Health Services, which covers an eight-county region including Pasquotank, Currituck and Bertie counties, Public Information Officer Amy Underhill said that the organization is focusing much of its efforts on putting factual information on its Facebook page and website. That information includes facts about the safety of the vaccine as well as guidance for what people can do once they are vaccinated.
Underhill added that when a community organization or civic group reaches out to ARHS, they've been sharing information with them, holding Zoom programs and panel discussions.
She added that ARHS also has a Zoom meeting scheduled this week with school personnel in its eight-county region to discuss outreach plans regarding vaccination opportunities for the 12- to 15-year-old age group.