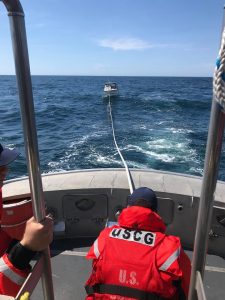 At approximately 10:45 a.m. on Monday morning, the vessel Offshore Fever – a 23 foot Albemarle skiff with four people on board – hailed to the U.S. Coast Guard Station Oregon Inlet on CH 16. The people onboard the vessel informed the Coast Guard's watch stander that they were 40 nautical miles offshore and were adrift.
The U.S. Coast Guard Station Oregon Inlet's boat crew quickly went underway to the site and, upon arrival, safely placed the vessel in skiff hook tow. One of the crew members sent over an extra handheld VHF radio to ensure that they would not lose communication on the ride back to the inlet.
Once approaching the inlet bar, the Coast Guard crew members shortened the tow and successfully towed the vessel through the bar and the new bridge at Oregon Inlet. Offshore Fever was put into an alongside tow and moored at the nearest safe haven.
The U.S. Coast Guard Station Oregon Inlet posted the details in a social media statement, and added "Bravo zulu shipmates on another successful mission!"