With Rodanthe homes in danger of collapsing, NPS and county representatives provide updates on an imminent issue
National Park Service (NPS) and Dare County representatives provided an update on the recent Rodanthe home collapse, and the status of additional homes that were in danger, at a Thursday evening meeting that attracted more than 80 attendees.
Sometime before the early morning hours of February 9, an uninhabited five-bedroom home along Ocean Drive collapsed and fell into the ocean. As National Parks of Eastern NC Superintendent David Hallac explained to the crowd, the incident resulted in a massive spread of debris along the Cape Hatteras National Seashore within hours.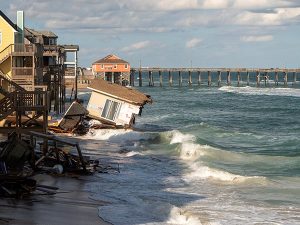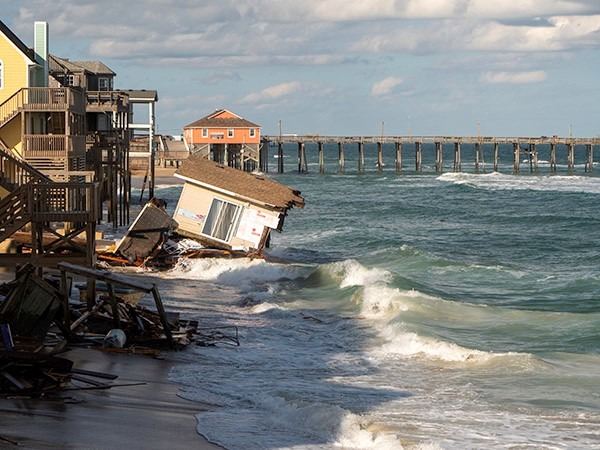 "Within about two hours [of being notified of the collapse], some of our resource management staff that were patrolling the beach that day already saw debris near Ramp 23, which is more than seven miles away," said Hallac. "So it didn't take very long for the ocean and the longshore currents to pull all that debris, and scatter it along the beaches."
"I will say that the owner of the home has put a significant investment into cleaning up," added Hallac. "He had a contractor on site within a day or two, and that contractor has probably spent almost two weeks… trying to clean the beach. But what we also learned was that within about 48 hours, we had debris all the way down to around ORV Ramp 34, [in northern Avon.]"
The current issue is that while the clean-up from the February 9 house collapse is ongoing, with debris recently reported as far south as Buxton, there are 11 additional homes in the  Rodanthe area that are on the verge of collapsing as well, per Hallac.
"Some of the other homes in the area that have been determined to be unsafe… are likely to collapse," said Hallac. "Maybe this afternoon, maybe over the next week, and maybe in the coming months."
Noah Gillam, Dare County Planning Director, explained that after the February 9 home collapse, the county examined the other homes in the surrounding area and tagged eight of the structures, removing the electrical power, and marking them as uninhabitable.
In addition, both the National Park Service and Dare County have been in contact with the homeowners of these threatened properties to encourage them to initiate a plan to move or remove their homes before they fall into the ocean.
"Our special permitting staff have contacted all of them to let them know that if the home collapses and you need a permit to go out on the beach and clean this up, here's how you get it, here are all the conditions, and you can apply for it before collapse," said Hallac.
"I will tell you some of the homeowners did not have a plan based on our discussions," said Hallac. "Our Chief Ranger Boone was able to urge them, very seriously, that they needed to have a plan, because if we have to hire a contractor to clean this up, somebody is most likely going to get the bill."
But even if a homeowner does their due diligence, and has a plan at the ready for debris removal after their home caves into the ocean, there is no guarantee that a contractor can be immediately available to mobilize. Also, as the Feb. 9 collapse demonstrated, debris can spread for miles within just a few hours' time.
"We're right now in a damage mitigation situation, and we want to be in a damage avoidance situation," said Hallac. "We do not want a home to collapse. It's a mess afterwards. It impacts the community, it impacts our visitors."
On the NPS side, the Cape Hatteras National Seashore, in conjunction with the county, is formulating an emergency action plan for the next home collapse.
The NPS will deploy a team of personnel to clean up as much as they can immediately after a home falls, and will likely hold future volunteer clean-ups within 48 hours. (A volunteer cleanup after the Feb. 9 collapse resulted in dozens of community members spending hours patrolling the beach and removing trash, or pulling larger sections of debris above the high tide line.)
But as Hallac, Gillum, County Manager Bobby Outten, and County Commissioner Danny Couch all emphasized at the meeting, even with an emergency plan, any post-collapse initiatives will not be as effective as removing the home before it deteriorates.
"Unfortunately, [the plan] needs to be reactive, because at this point, we have not been able to force the homeowners to take these homes down, despite the threat that they are causing to your National Seashore," said Hallac.
The county and NPS representatives also preemptively addressed some common questions about the scenario, such as why the county does not force the owners to remove the structures before they become a danger.
"The answer is we can't," said Outten. "They had pretty much exactly the same situation in South Nags Head, and they did proceed to try to make those houses be taken down. The owners filed suit in federal court, and they went all the way to the Fourth Circuit Court of Appeals, and the Court of Appeals ruled that if the local government doesn't own the land, then they don't have the authority to make somebody take [the home] away, even if it's unsafe, and even if it's a nuisance."
In Outten's example, the years-long legal battle to try to remove the South Nags Head homes resulted in a $1.7 million expense for the county.
The county and NPS also addressed insurance questions, although there were no insurance industry representatives at the meeting. Essentially, homeowner insurance will come into play once the home has been destroyed, but will not provide preemptive funds to remove the structure before it falls.
"There was, back in the 90s, an amendment to the National Flood Insurance Program called the Upton Jones Amendment," said Couch, "and it essentially paid 40% of the property policy to relocate the home, and paid 110% of the policy to demolish the home."
"Well, in its short five-year existence, with the combination of hurricanes, the lunar tides, and some bad stuff weather-wise, it proved to be very [costly], and 75% of the applicants were for demolishing their homes," added Couch. "So, as you can imagine, the insurance lobby put the kibosh on that pretty quickly."
Couch did state that the country could and will "start a conversation" with federal representatives to try to identify future solutions.
After a roughly 30 minute presentation, the meeting hosts from the NPS and the county fielded roughly an hour of questions from residents and homeowners. One of the biggest themes in the ensuing Q&A, and especially from property owners in the surrounding Rodanthe area, was about whether beach nourishment could be enlisted as a long-term solution.
The NPS adapted a new Sediment Management Framework in May of 2021, which makes it easier and faster to issue permits for projects such as beach nourishment, but as Outten explained, the issue with starting a Rodanthe beach nourishment project is funding, and identifying an emergency need to widen the shoreline.
A beach nourishment project can only move forward if it is demonstrably shown that the eroding shoreline is creating a community-wide safety issue. For example, when Hurricane Irene impacted northern Hatteras Island in 2011, the highway was torn to shreds, and the only access on or off the island for weeks was via an emergency ferry from Rodanthe to Stumpy Point.
With the Jug Handle Bridge on the verge of opening, bypassing N.C. Highway 12 in northern Rodanthe, beach nourishment may not be necessary in Rodanthe to keep the island accessible.
As for funding, communities that benefit from a beach nourishment project, (which costs roughly $10 million for every mile of shoreline), typically pay about 50% of the cost for the project. In the case of the upcoming Avon beach nourishment project, a new tax service district was formed, which effectively increased taxes for all Avon property owners.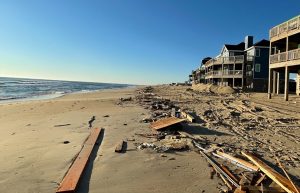 "So when you start talking about taxing Rodanthe, if the Jug Handle Bridge gives most of Rodanthe access, are we going to tax all of Rodanthe just to do a section in the northern end of Rodanthe that's in peril? I don't know – that's a political question that, when the time comes, will have to be addressed," said Outten. "But the second thing is, can you tax Rodanthe sufficiently enough to get enough money to cover [50%] of that cost? Because the county's Beach Nourishment Fund cannot incur that [total] cost."
Finally, because a beach nourishment project can take at least 10 years to implement, the project would likely not be able to save the current homes in danger. For the upcoming 2022 Avon beach nourishment project, longtime advocate Pat Weston first started the movement to get a project off the ground in 2009, 13 years before the project's estimated start date.
One meeting attendee asked about putting sandbags in front of an oceanfront property as a protective measure and temporary solution, but as Hallac pointed out, "If the homes are already in the water, where would [the sandbags] go?" Other problems associated with sandbags included the fact that they would likely be destroyed at some point, as evident by years-old and leftover sandbag debris in Buxton and other villages, and that when sandbags are installed, they have an effect similar to a jetty, where the wave action and energy simply shifts further down the beach, and impacts a property's neighbors.
Other suggested options from attendees, such as artificial reef balls, are not permitted by law in North Carolina, while stop-gap measures such as seawalls or jetties also result in accelerated erosion in bordering areas.
Overall, the most prominent solution addressed in the meeting was to encourage homeowners to move or remove the homes before a likely collapse, and before the current debris issue multiplies.
"You can talk all day long about things, but it's got to be a rubber-meets-the-road issue with this," said Couch. "We have some tools in our toolbox to deal with [this situation] … but this is probably the most dynamic geologic process on the planet."
"There are probably some areas that shouldn't have been developed," added Couch. "I know that's not going to be a popular stance, but these chickens are coming home to roost now…. It's a slice of paradise, but it didn't come without a price."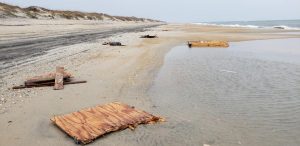 As for the most recent collapse in early February, a portion of the shoreline remains temporarily closed off due to dangerous materials, and clean-up efforts continue.
"There remains debris on the beaches: small pieces of tar paper, Styrofoam, pieces of wood, and we are going to see that for a while," said Hallac. "We're going to do our best to try to clean things up, but you should expect to see that for quite some time."
And while immediate attention is on the 11 homes in the northern Rodanthe area that could collapse at any time, Hallac noted in the meeting, (and in previous interviews), that homes in other communities in Avon, Buxton, and other hot spots along Hatteras Island will likely, at some point, follow suit.
"This is a rapidly eroding area," said Hallac. "We know some from some recent studies that we've seen more than four meters per year of erosion. And we expect that will continue, because all the data that we've collected really just shows that trend going in one direction."