Hatteras Island Real Estate: Hatteras Island 2020 Year-End Market Review
As we approach the end of 2020, I think we would all agree that this has been an unusual year to say the least. We saw the onset of the COVID-19 pandemic start in January followed by the closing of Dare County to visitors from March 15 to May 16, accompanied by a series of stay at home orders. Then, to everyone's surprise, the real estate market on Hatteras Island exploded to record-setting levels once the county reopened. As the following chart shows, properties under contract surged well over 400 percent between mid-May and late August. This unprecedented increase was enhanced by mortgage interest rates falling below 3.0 percent.
The pace of sales remains strong going into the New Year. The recent decline in the number of properties under contract is, in part, due to the closing of previous pending sales, as well as some decrease in the overall level of market activity as the traditional rental season ends.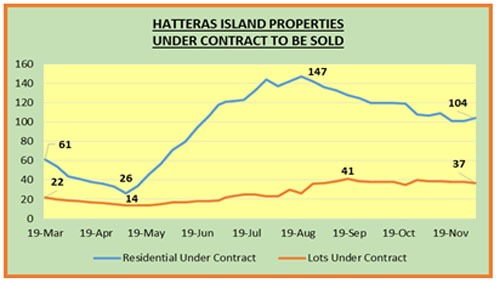 Another market trend that we are seeing is that the demand for residential properties is far exceeding the available supply, especially in price ranges below $600,000. Through the end of November, 402 homes had been sold on the island this year, and there were only 141 still available for purchase. This equates to a four-month supply of properties for sale now compared to a 1.2 year inventory at this same time in 2019! Statistics like these suggest that shortages are sure to affect the market, and purchase prices will probably increase as fewer and fewer lower-priced properties are available.
Despite losing two months of rentals while the county was closed to vistors, the lodging industry on Hatteras Island experienced a surge in reservations as people working from home with children being schooled online recognized the desirability of quarantining in a relatively isloated resort environment. This trend was boosted by an article in Forbes magazine that identified the Outer Banks as the preferred destination for riding out the COVID lockdown. What could have turned out to be a financial disaster allowed the Dare County occupancy tax receipts to post a 5.8 percent year-to-date increase in October. Preliminary advance reservations point to 2021 as having the potential to see a continuation of the trend toward rentals being a strong contributor to the island's economic health.
At the same time that we saw the real estate market take off, an interesting demographic trend emerged. As working at home and online schooling became commonplace, people began moving their permanent residences both nationally and locally. I recently heard a report that 23 million people across the country have changed their state of residence this year. Hatteras Island and the Outer Banks have also experienced changes in buyer behavior. A year ago, the majority of purchasers would have kept their new homes in a property management rental program. This year, a noticeable number of buyers are choosing to make their purchases their permanent residences.  It has been very difficult to get specific data on the number of people who have moved their primary residence to Hatteras Island. Everyone to whom I have spoken acknowledges that this pattern is taking place, but they don't have hard statistics on the trend. For example, when I asked two of the post offices on the island how many new P.O. boxes they had opened this year, they responded – "I don't know, but it is a lot."
Of course, the 800-pound gorilla in the room is the question of how long the current boom will last. No one knows the answer to this question. However, if you are planning to buy or sell, now is the time to take action. If the past is any guide, in June of 2005 when the last market cycle peaked, new sales almost completely stopped within a two week period. We would all like to think that today's extraordinary  market will continue for an extended period of time, but the odds are against it.
Our local real estate brokers are ready and capable of supporting all of your buying or selling needs. Give them a call, and take the first step toward making your dream of owning a place at the beach come true. If you are a property owner and you have been thinking of selling, explore the process of marketing a home or lot that you own and what a reasonable asking price­­­ might be in today's market.
Questions, comments, and suggestions for future articles may be sent to Tom Hranicka at P.O. Box 280, Avon, NC 27915 or by e-mail to hranicka@hatterasisland.com.
Copyrig­­­­ht© 2020 Tom & Louise Hranicka.  All rights reserved.