Island Real Estate: Takeaways from the August 2023 OBAR Statistical Report
I want to start things by talking about land.  There's a quote often attributed to Mark Twain that says:
"Buy land, they're not making it anymore."
And Hatteras Island specifically is a unique place when it comes to Outer Banks real estate.  Most of the island is owned or operated by government agencies. Of the remaining land, a large percentage has already been built on.  This leaves a dwindling supply of available buildable land as time passes, and unfortunately in northern Rodanthe, even some of the land that once existed is no longer there.  I've seen a noticeable jump in inquiries about vacant lots for sale on the island so far this year, and the stats from 2019 to 2023 tell the story.
Land sales by year on Hatteras Island:
2019 – 72 sales
2020 – 95 sales
2021 – 190 sales
2022 – 145 sales
2023 YTD – 68 sales
As of September 16, there were only 63 residential lots available for sale on the island.  You can see that there was a peak of activity in 2021 but already this year we are well ahead of the total sales pace from 2019. We all know what happens to prices when supply dries up, and how many buildable lots will remain in another 5, 10, or 20 years?  Something to think about…
On to the August Outer Banks Association of Realtors report…

Across the OBX Land Inventory is Dropping
It's not just specific to Hatteras Island, land inventory in the entire Outer Banks has dropped from 568 in August of 2021 to 333 this year. This is a reduction of 41% in available inventory. Compared to August of 2020 it's actually down 50% since then.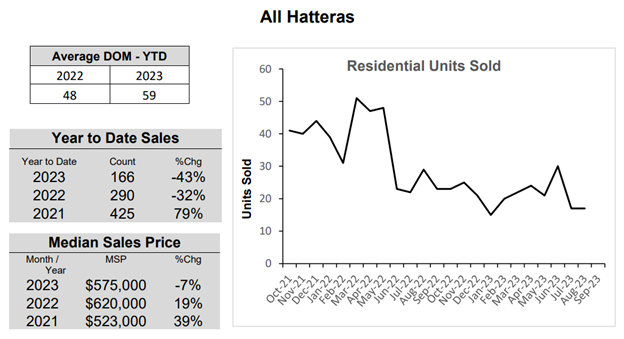 Hatteras Island Real Estate is Down Slightly
In a bit of a reprieve for house hunters, the median sales price is down 7% versus last year on the island. As you can see in the chart, sales volume has slowed significantly YTD. The median sales price is slightly skewed lower because so many of the sales have been at or below the $400k price point, (34 sales so far YTD). It makes perfect sense though, because as home affordability has become a real issue thanks to rising mortgage rates, buyers are actively seeking homes at lower price points.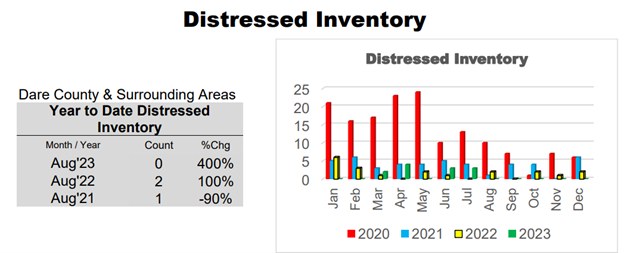 Distressed Inventory is Extremely Low
There's a certain group of folks online, (especially YouTube), who are predicting a crash in the real estate market or hoping for a deluge of foreclosures to sink prices. If you go back to the 2008 financial crisis, probably THE main driver for the drop in home prices was foreclosures. When your neighbor's home sold on the courthouse steps for half of what you just paid for yours, it put a real dent in your home's value. But with the Dodd-Frank reforms much of the environment that allowed 2008 to happen was regulated and tightened up. Today's borrowers are meeting much more stringent lending standards than in 2008, and as you can see in the graph above. our distressed inventory is extremely low.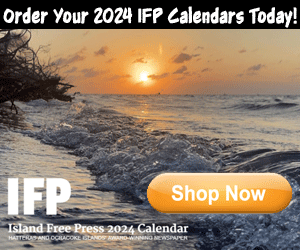 Beyond that, according to MarketWatch, the average U.S. homeowner has almost $200k of equity in their home. If you can do a cash-out refi or just list and sell your property, how can it go into foreclosure or a distressed sale? The real estate cycle is a real thing based largely on supply and demand, and home prices don't always go up. (especially not up like they did in 2020-2022). But for our area with limited new construction happening and strong demand from buyers just waiting for rates to drop, the only market-based mechanism for home prices to drop substantially is through foreclosures. And distressed inventory has remained far below 2020 levels and nowhere near 2008 levels. So if mortgage rates drop and home prices resume their rise upward, don't be surprised.
And if you think a recession will cause home prices to fall, you might be surprised at the trend there as well.  From Keeping Current Matters: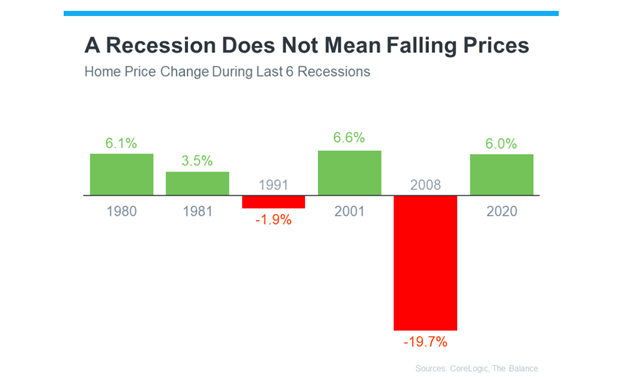 So much of the real estate market is driven by mortgage rates, and supply and demand.  I've given up on trying to figure out what the Federal Reserve will do with rate decisions, but when it comes to supply here at the beach, we know one thing for sure – they aren't making any more land.
If you would like to see the entire report you can view it every month on the OBAR website:
https://www.outerbanksrealtors.com/market-data/
Thanks for reading and enjoy some fall fishing!

About the Author: Stephen Smith is an Outer Banks realtor with Real Broker, LLC. He was nationally recognized as an award-winning agent in 2021 and 2022 at his previous firm. He has lived on the Outer Banks for nearly 20 years, and met his lovely wife on Hatteras Island. They currently reside in Nags Head with their daughter, but Hatteras Island is still home in many ways. For questions on the Hatteras or greater OBX real estate market, you can contact Stephen directly at stephensmithobx@gmail.com or 252-216-9230. His website is https://www.stephensmithobx.com or you can receive his weekly newsletter by signing up at https://mailchi.mp/43cd4a4bf1a6/obxnewsletter.