Hatteras Island Real Estate: Hatteras Island Construction Update
While the residential real estate market on Hatteras Island showed mixed results through August, the undeveloped lot market reported double digit increases in almost all major indicators. This got me to wondering if the rise in lot sales might be a harbinger of good times ahead for the construction industry on the island.
To gain some insight into the longer-term interrelationship between lot sales and new home construction, I researched the statistics related to these two measures of market activity since 2009. The following chart shows that while single family detached building permits generally follow patterns similar to lot sales, this is not always the case. In addition, if we adjust for the highs and the lows over the years, the number of lot sales and the number of new building permits are just about the same today as where they were in 2010. During the past ten years, an average of 34 new single-family building permits have been issued each year.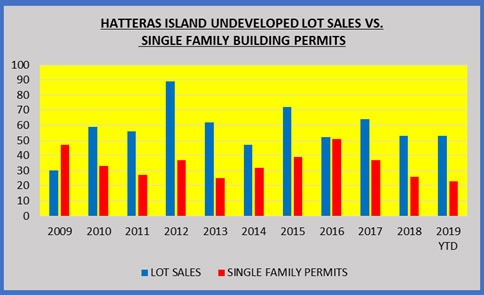 These results surprised me a little because I thought that we were seeing an uptick in new residential construction. However, looking at the Dare County building permit records, renovations and repairs are still playing the lead role in construction projects. I also expected to see a time lag between changes in the number of lot sales and new residential building permits. What the data seems to show is that most buyers of undeveloped lots are purchasing their building sites and starting construction shortly thereafter rather than adopting a buy and hold strategy.
Another dimension of the construction statistics is where building is taking place on the island. Over the past three years, Salvo and Hatteras Village have been the top locations with the highest number of single family building permits. Depending on the year, Avon, Buxton, Frisco, and Rodanthe have made it into the top three rankings.
For one additional perspective, it is interesting to consider current construction trends in relation to the pattern of residential development on the island over very long periods of time. Research into the Dare County tax records to determine the number of homes actually built on Hatteras Island during each 10-year period since 1960 revealed that the island started being discovered by the outside world during the 1970s. The construction of new homes then accelerated until the most recent real estate market downturn began in mid-2005. During the decade of 2000 to 2009, almost 80 percent of the homes were built between 2000 and 2005. From that point forward until today, there was a precipitous decline from an average of 198 homes built per year to an average of just 35 homes built per year between 2010 and 2018. From these figures, it is easy to see why so much of the recent construction activity has been focused on repairs and renovations vs. new construction.
While the opportunity to purchase undeveloped properties is slowly getting smaller, there are many very attractive vacant parcels that are still available on which to make Hatteras Island dreams come true!
——————————————————————————————————————-
Questions and comments may be sent to Tom Hranicka at P.O. Box 280, Avon, NC 27915 or by e-mail to hranicka@hatterasisland.com.
Copyright © 2019 Tom & Louise Hranicka. All rights reserved