Hatteras Island Real Estate: Patterns in the Hatteras Island Real Estate Market
Watching the real estate market on Hatteras Island is always a fascinating and challenging experience. Rarely do all of the statistics point in the same direction making definitive statements about where the market is at any point in time difficult.
Some who track the market data over long periods of time have voiced the opinion that the island's real estate market roughly follows 10-year cycles – 10 years of downturn followed by 10 years of growth.  The following chart gives credibility to this view.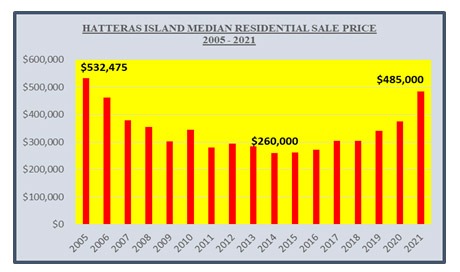 The peak of the last real estate boom on the island took place in 2005. This was followed by nine years of declining prices. Then, starting in 2015, the market turned upward again. This year marks the seventh year in the latest growth cycle.
As we have all seen, the past year has been characterized by record-setting numbers of home sales both local and nationally. At the same time, the median sale price of residential properties has not quite reached the level at the end of the last cycle.
Here is where the story gets interesting. The statistics only tell us historical information – the numbers don't tell us what lies ahead except in a general sense.  Do the recent price increases foretell an imminent downturn in the market or does the market still have room to grow? Perhaps by onsidering the very limited inventory of homes for sale on the island (79) and a recent decline in the number of pending residential sales in combination with the price trends, we can make some personal estimates of our own. What do you think?
Our local Hatteras Island real estate brokers are available to discuss what the current market data might mean for your personal financial circumstances. Whether you are thinking about buying the vacation home of your dreams or selling a cottage or undeveloped lot that you own, now is a great time to explore the island's real estate market.
Questions and comments may be sent to Tom Hranicka at PO Box 280, Avon, NC 27915 or by email to hranicka@hatterasisland.com
Copyright © 2021 Tom & Louise Hranicka.  All rights reserved.