Hatteras Island Real Estate: Perspectives on the undeveloped lot market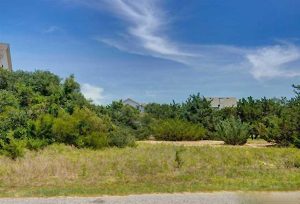 The majority of reporting, both locally and nationally, has been focused on the performance of the residential sales market with only a few summary comments usually devoted to the market for undeveloped lots. To provide some perspective to the overall real estate market on Hatteras Island, I thought it might be helpful to focus this article on a variety of factors associated with the lot market.
Between January 1st and August 31st of this year, there have been 425 sales of residential properties vs. 126 lot sales. This ratio of home sales to lot sales (roughly 80 percent residential to 20 percent lots) is surprisingly close to the same relationship that existed for the full 2019 year before the recent sales surge took place.
Historically, lot sales have always lagged behind residential sales. I believe there are a number of explanations for this pattern.   Among the reasons are the following –
Unless an undeveloped lot is purchased primarily for investment purposes, buyers are often reluctant to buy a lot with the intention of building because they have concerns about constructing a cottage located a considerable distance from their home where it would be difficult to keep an eye on the progress on a frequent basis. With today's technology, this should become less of a fear because of the availability of online video conferencing.
Conceptualizing what a home will look like from plans vs. seeing a model home is a challenge for many buyers. Our local contractors can often reduce this anxiety by showing prospective building clients examples of existing homes that they have constructed.
Some buyers are concerned about finding a building contractor to construct the island home of their dreams. Usually, their real estate agent can reduce this apprehension by suggesting several builders for their consideration.
In some cases, the sheer volume of decisions associated with buying a lot and constructing a home can be overwhelming to a buyer since every aspect of the home from its basic design to building materials to color choices require selections.
The current building environment also presents some challenges. Construction cost estimates can range from $180 per sq. ft. to $200 per sq. ft. The cost of materials and availability due to industry-wide shortages can be daunting for some buyers. In addition, unusually lengthy or unpredictable delivery times for materials, furnishings, and appliances can introduce an element of frustration for both the building contractors and their clients. Hopefully, these issues will be resolved over time, but right now, they are very valid sources of uneasiness.
As you can see, underlying themes influencing the decision to buy a lot and build rather than purchasing an existing home are fear and uncertainty. However, if these apprehensions can be overcome, the reward and satisfaction of having a custom-built home that meets a buyer's personal needs and wants cannot be overstated.
Our local Hatteras Island Realtors are available to walk you through the process of buying an undeveloped lot and building from the initial decision through the pleasure of receiving the keys to your new home. With the currently low inventory of residential properties, especially in the lower price ranges, now may be a great time to consider the purchase of an undeveloped lot!
————————————————————————————————————–
Questions and comments may be sent to Tom Hranicka at P.O. Box 280, Avon, NC 27915, or by e-mail to hranicka@hatterasisland.com.
Copyright © 2021 Tom & Louise Hranicka.  All rights reserved.