Hatteras Island Real Estate: Vacation Home Operating Expenses
Purchasing a second home on Hatteras Island usually involves a number of different motivations. The decision usually starts with a basic desire to establish a more permanent relationship wit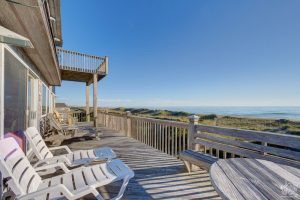 the island and to have a place in which to create lasting memories for the family. At some point, the investment aspects of the purchase come into the picture. This article is intended to summarize the typical monthly operating expenses associated with ownership of a vacation home.
Electric service is provided through the Cape Hatteras Electric Cooperative. The expense will depend on a variety of factors, including the size of the house and the amenities that are offered.
Water service is available either centrally through the Dare County Water Department or through the use of individual wells. Central water service is most common, and the cost will again depend on the size of the cottage and the presence of amenities like private pools and hot tubs. If a home has a private well, as some still do, there is no monthly cost for water, although there could be expenses for maintenance of the well and periodic testing to assure the quality of the water.
Telephone service is provided by two main vendors – CenturyLink and Silicon Travel. CenturyLink offers traditional landline service. Silicon Travel offers telephone service through a Voice Over Internet Protocol (VOIP) system. With the widespread use of personal cell phones, some owners are choosing not to offer telephones in their cottages.
CATV service is available from two primary sources – Spectrum CATV and DIRECTV. Some property management companies offer a discount program with DIRECTV.
Internet service is offered by Spectrum, CenturyLink, and Silicon Travel. CenturyLink offers a high-speed Internet option through a fiber optic cable network, and Silicon Travel offers packages that combine both phone and Internet.
Propane Gas service for gas fireplaces, gas stoves, and pool heat is available through a variety of companies.
Property Taxes are billed annually through the Dare County Tax Department. The cost is based on the assessed value of the individual property. Property values will be reassessed again in 2020. Property taxes are usually considered to be very reasonable in relation to those charged elsewhere along the east coast.
Homeowner Insurance covers risks like fire, liability, and theft. It is usually a little more expensive here on the Outer Banks than for your primary residence at home.
Flood Insurance is offered through the National Flood Insurance Program (NFIP) and private insurance companies. Flood insurance is required by lenders on all federally backed loans. It is usually relatively inexpensive because it is federally subsidized. Please note that there are some areas on Hatteras Island known as Coastal Barrier Resource Areas where NFIP coverage is not available. In those cases, private insurance policies may be available at a higher cost.
Wind and Hail Insurance coverage is offered through a state pool of insurance companies known as the North Carolina Joint Insurance Underwriting Association. Wind and hail is usually the most expensive form of property insurance coverage for homeowners.
Pool & Hot Tub Maintenance is provided by a variety of private vendors on the island. Property management companies may also offer a pool and hot tub maintenance program.
Lawn Care is usually individually contracted by the homeowner through a reasonably wide selection of local service providers.
Homeowner Association Dues are assessed by those associations that have annual fees. The cost is usually dependent on the services and facilities that each association offers. There are many communities on the island that do not have active homeowner associations.
Property Management Fees are usually based on the amount of rental income that a property generates. The higher the annual rental income; the lower the property management commission.
The foregoing list does not include all costs of ownership such as ongoing maintenance, furniture replacement, renovations, upgrades, etc. However, it does include a representative sample of the most common monthly expenses. Your Hatteras Island Realtor can estimate operating expenses, and actual operating costs are sometimes available for the cottage in which you are interested.
——————————————————————————————————————-
Questions and comments may be sent to Tom Hranicka at P.O. Box 280, Avon, NC 27915 or by e-mail to hranicka@hatterasisland.com.
Copyright © 2019 Tom & Louise Hranicka.  All rights reserved