Island Real Estate: 2022 Year in Review
Four out of the Top 5 home price appreciation locations on the Outer Banks were on Hatteras Island!
The year-end stats are in, and several locations on Hatteras Island saw significant home price appreciation.  You can access the year-end report by specific areas here, (such as Waves oceanside, Waves soundside, etc.), and the December Outer Banks Association of REALTORS®' (OBAR) year-end report link can be found at the bottom of this article. Some significant takeaways from these reports:
First of all, the top 5 winners for home value appreciation (by median sales price)
Waves Soundside 84%
Salvo Soundside 52%
Duck Oceanside 50%
Buxton Oceanside 49%
Buxton Soundside 48%
And here's a quote from the OBAR year-end report, for the entire Outer Banks:
2022 vs 2023 Sales – Although sales are down (28%) for 2023 the good news is that the residential median sales price is up 17% and the lot / land sale median sale price is up 20% . Of particular note is that the median sale price of residential property has risen steadily over the last three years anywhere from 17% to 22%.
A low number of total transactions

As you can see, the green bars representing 2019 show a pre-Covid market environment, and we were ahead of that pace up until October, but it has started to lag behind 2019 levels. Mortgage rates have a lot to do with that, as they steadily climbed throughout the year.
Low inventory is keeping pressure on prices

This is another factor in the slowing number of transactions – there's very little for sale!
The residential inventory graph shows that inventory is starting to come back versus 2021, but the end of 2021 and early 2022 lines show that inventory levels were extremely low. There are buyers lined up on the sidelines waiting for rates to come down, and I don't think the supply-demand ratio has been resolved yet. We are still at a fraction of 2019 inventory levels.
Hatteras Island ends 2022 up 15%
Island-wide, this was still an above-average rate of home price appreciation. Keep in mind that the national rate of home price appreciation historically hovers between 3.5 to 3.8%.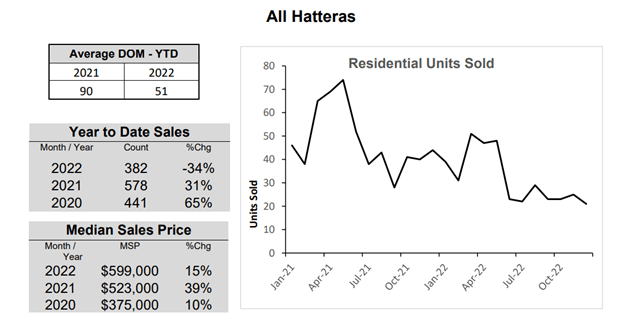 There are two areas that caught my eye on the year-end stats, if you are in the market for a home:
Rodanthe Soundside. The median sales price was down 5% last year, listings were down 58% last year. This is a low inventory, high potential spot, and you avoid the current erosion concerns on the oceanside, and soundfront Rodanthe properties have beautiful sunsets with access to some great windsurfing and kiteboarding. With a new community boat ramp on the north end and a fishing pier, nearby ORV access and nearby parking for beach access, there are a lot of positives to being on the soundside in Rodanthe.
Hatteras Soundside. This area offers many of the same benefits of the Rodanthe soundside, (like beautiful sunsets and water access), but you are also close to world-class fishing and being able to go deep sea fishing via Hatteras Inlet. Median sales price was up 15% last year, but there were less than half as many listings as in 2021. It's a charming community with a new walking path through the village, and Hatteras will always be an in-demand rental area for fishermen, (especially if you have a boat dock with a lift).
If you would like to see the entire report you can view it every month on the OBAR website:
https://www.outerbanksrealtors.com/market-data/
Thanks for reading and I hope everyone has a great 2023!

About the Author: Stephen Smith is an Outer Banks realtor with Coldwell Banker Seaside Realty. He was recognized in 2021 as one of the top 10% of Coldwell Banker agents worldwide. He has lived on the Outer Banks for nearly 20 years, and met his lovely wife on Hatteras Island. They currently reside in Nags Head with their daughter, but Hatteras Island is still home in many ways. For questions on the Hatteras or greater OBX real estate market, you can contact Stephen directly at stephen@cbseaside.com or 252-216-9230. His website is https://www.stephensmithobx.com or you can receive his weekly newsletter by signing up at https://mailchi.mp/43cd4a4bf1a6/obxnewsletter.
*Statistics in this article are based on information from the Outer Banks Association of REALTORS® MLS